Looking for our 2019 Our Iowa...and Yours, Too! tour? Click here.

CTD and the experts at Our Iowa Magazine are proud to introduce an all-new discovery trip (our fifth) in the Hawkeye State. Over the years hundreds of travelers—including scores of Iowans—have delighted in the "hidden gems" we've shared throughout Iowa...and this tour is no exception. Starting from Des Moines, we'll go behind the scenes at a hydroelectric power plant and prison facility, learn about Iowa-born President Herbert C. Hoover, and discover Iowa's importance in world literature. Along the way, meet Mennonite farmers, skilled craftspeople, and friendly locals who share eclectic collections. Hot-air ballooning, Pella's Dutch culture, "Jewel-Box" architecture and "The American Gothic House" cap off this delightful discovery.
Exclusive tour of Keokuk Power Plant
Discover great American literary figures in Iowa City with Andrea Wilson
Visit the American Gothic House
Herbert H. Hoover Presidential Library
Visit the Dutch town of Pella
Experience a homemade Mennonite lunch
Look for bison in the Neal Smith Wildlife Refuge
Meet local craftspeople, land experts, eclectic collectors and "the Banana Man"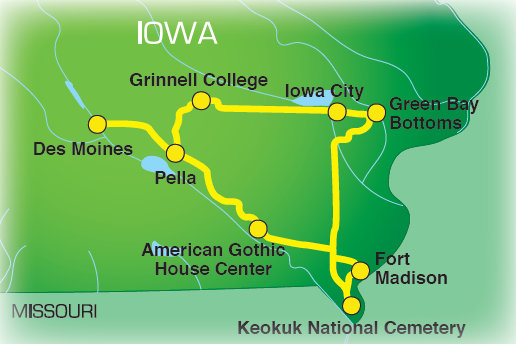 DAY 1—WELCOME

Enjoy meeting your Discovery Director and your fellow travelers at tonight's welcome dessert reception in Des Moines.
DAY 2—HOT AIR BALLOONS/BANANA GUY/POTTERY
This morning it's up-and-away at National Hot Air Balloon Museum and Hall of Fame! You'll learn why Indianola was the place to be for balloon pilots in the 70's and 80's. Next, meet Norm Davis, "the Hy-Vee Grocery Banana Guy," nationally known for his meticulous method of preparing bananas for shipment. After lunch, visit "The American Gothic House," where guests can pose for their own American classic photo-op. Then, it's on to Bonaparte Pottery to see how molds are used to recreate antique pottery. The kilns were discovered on the site by archeologists in the 1870's. The next two evenings will be spent in Fort Madison. B, L
DAY 3—KEOKUK POWER PLANT/NATIONAL CEMETERY/FORT MADISON PENITENTIARY
Start today with a behind-the-scenes tour of Keokuk Energy, the largest privately owned dam and hydroelectric plant on the Mississippi. After, take a guided town tour with highlights including homes on the bluffs overlooking the river and the National Cemetery where veterans from the Civil War up to today are buried. Next, after a scenic ride up the Great River Road and across the longest double-deck swing-span bridge in the world, a retired guard from the Iowa State Penitentiary at Fort Madison will share fascinating stories from the inside the prison. Tonight we dine at Atlas Restaurant in the historic Kingsley Inn. B, L, D
DAY 4—JOHNNY CLOCKS/ANTIQUE SIGNS/CITY OF LITERATURE
This morning in Green Bay Bottoms, learn how land in the floodplain is drained, leaving some of the most fertile soil in the country. Next, John and Patsy McClain demonstrate how John's "whittling" has led to some beautiful hand-carved clocks. Then we'll visit Hal Coliver's impressive collection of antique gas pumps and signs. Our special lunch is a hearty, family-style meal served in a conservative Mennonite home; we'll learn about the intriguing traditions and values of the Amish and Mennonite cultures. Then, in Iowa City, we visit with Andrea Wilson, who sustains a support system for writers in this literary mecca that has been named a UNESCO City of Literature. She'll share stories of Kurt Vonnegut, John Irving and countless other famous authors who studied, taught and wrote here. B, L
DAY 5—HOOVER LIBRARY/SALT & PEPPER/JEWEL BOX BANK
Today we'll learn about the only Iowa-born president at the Herbert H. Hoover Presidential Library. After lunch, we'll visit the largest collection of salt and pepper shakers west of the Mississippi River (and the second largest in the world). Ruth Rasmussen began this collection in 1946 and has been featured in the Guinness Book of World Records, USA Today and other outlets. Next we stop in Grinnell, the "Jewel of the Prairie," to tour one of only eight "Jewel-Box Banks" designed by Louis Sullivan, legendary architect and mentor to Frank Lloyd Wright. We will also tour Grinnell College, a private liberal arts school nicknamed the "Harvard of the Midwest". This evening we'll overnight and enjoy a traditional Dutch meal in charming Pella. B, L, D
DAY 6—DUTCH PELLA/IOWA'S "PRETTIEST FARM"/BISON REFUGE
In the historical village in Pella, see how early pioneers lived in sod houses, how wooden shoes were made, and how Wyatt Earp lived as a child. Also see the largest working grain windmill in the U.S., the Vermeer Mill, fully restored from the early 1900s. Next, Melvin and Karen Poortinga welcome us to their lovely property, named Our Iowa Magazine's "Prettiest Farm". Before heading back to Des Moines, experience Iowa's rolling prairies and grasslands as they appeared before settlers started to farm the area at Neal Smith Wildlife Refuge. We'll watch for bison roaming the prairie as we drive through the refuge. B, L
Sep 16-21, 2018 | Oct 7-12, 2018

Depart/Return: Des Moines, IA
Price Per Person: Double: $1,497; Single: $1,795
Pre/Post-Tour Hotel: $138/night
Average Temps
Highs in June and August can reach the mid 80s with lows in the lower 70s. In September and October, highs from mid 60s to 70s and lows from mid 40s to lower 50s
Time Zone 
Central
Arrival Time 
Schedule your flight to arrive by 5:00 p.m. on Day 1.
Departure Time 
Schedule your flight home any time after 5:30 p.m. on Day 6.
Airport Info 
Starting hotel offers complimentary shuttle service between 5AM and 11PM.
Vehicle Parking 
Complimentary for duration of tour.
Walking Distance 
Light to moderate walking is required to fully enjoy this tour.
Currency 
US Dollar
Hotel Amenities 
Hair dryers, irons, ironing boards & coffee makers throughout tour. Exercise room and swimming pool available at most hotels.
Additional Information 
No photography allowed at Amish and Mennonite stops, and conservative clothing requested at such stops.

Further information is mailed upon receipt of your reservation. A total of three mailings are sent to assist you in preparing for your tour…Get Ready, Get Set and Go! Our "Get Ready" packet is sent confirming your reservation. Our "Get Set" packet provides further details approximately 90 days prior to departure with important details regarding making your travel arrangements. Finally, our "Go" packet arrives 2-3 weeks before departure containing all your final documents.
Updates 
Updates to this document are available from our Discovery Reservations Team, and will be posted online at www.CountryTravelDiscoveries.com/OIA.
Travel Protection Available?
Yes, see CountryTravelDiscoveries.com/TravelProtectionPlan.
Terms & Conditions
Tour reservations are subject to the terms and conditions on our website at CountryTravelDiscoveries.com/terms.
Groups
Have a group? We can make your group's vacation cost-effective and easy, with discounts for groups as small as five and other benefits. Learn more at CountryTravelDiscoveries.com/groups.
Share it
---