Join us for this fascinating exploration of Washington, DC and the neighboring mid-Atlantic crossroads. You'll visit the landmark areas, monuments and museums of Washington, DC, then head out to explore the charming DelMarVA Peninsula, where Delaware, Maryland and Virginia intersect. Meet hardworking Chesapeake crab and clam fishermen, see the famous wild ponies of Assateague and Chincoteague, visit major military institutions, and relive the days of our country's founding from George Washington's Mt. Vernon home to Lewes, DE, "the first city in the first state". Visit one of America's top boardwalks at Rehoboth Beach, a top mushroom farm, a Quaker Meeting House, a formal High Tea at the elegant Hotel Du Pont, a master boat-building school, and more!
Day and night tours of must-see DC landmarks, from the White House and Capitol to the Lincoln and Jefferson Memorials and much more
DC Monuments Illumination Tour
Noted military sites Dover Air Force Base, Arlington National Cemetery and the U.S. Naval Academy
High tea at Wilmington's luxurious Hotel du Pont
Ocean-front hotel with ocean views in Rehoboth Beach
In the Chesapeake Bay, visit crab fisherman and enjoy a crab cake cooking demo
Get up close to the wild ponies of Chincoteague and Assateague
Visit the home of George Washington at Mt. Vernon
Learn about the Quaker community at Third Haven Friends Meeting House, the oldest frame house of worship in the U.S.
Visit the nation's largest grower of specialty mushrooms in Kennett Square, PA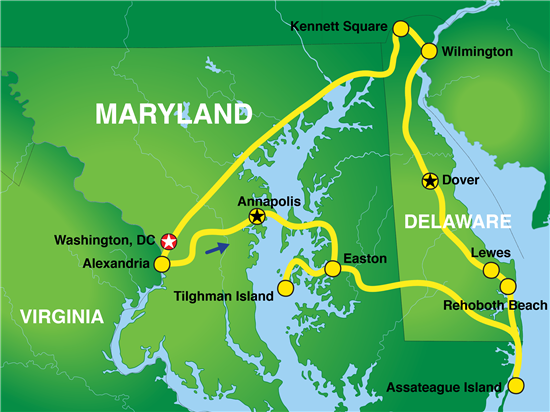 DAY 1—ARLINGTON WELCOME
Meet your fellow travelers and Discovery Director at tonight's welcome reception.
DAY 2—MONUMENTS AND MEMORIALS/GEO. WASHINGTON'S ALEXANDRIA
Today, tour famed addresses, institutions and landmarks of our capital. Along the National Mall, visit monuments and memorials to those who served our country, some making the ultimate sacrifice. This afternoon we tour Mount Vernon, home to America's first President, on the banks of the Potomac River. This evening take a drive around DC at night and see the monuments and memorials illuminated. B, L
DAY 3—ARLINGTON/ALEXANDRIA/ANNAPOLIS
Start with a moving visit to the sacred grounds of Arlington National Cemetery. See the eternal flame that marks the grave of JFK and admire the ritual changing of the guard at the Tomb of the Unknown Soldier. Enjoy a guided tour of historic Alexandria and lunch at Gadsby's Tavern, where George Washington stayed and ate. Later, we visit Annapolis and learn of its rich history and naval traditions. This evening, settle in for a two-night stay in Easton, MD. B, L
DAY 4—CHESAPEAKE BAY CRUISE/ QUAKER MEETING/MARYLAND CRABS
Today, a seasoned crab fisherman provides insight into this important local industry; see the process of picking the day's catch clean. Next, cruise the beautiful Miles River, part of the Chesapeake Bay Estuary, the largest in the Western Hemisphere. Learn about local beginnings, view historic homes and wildlife, and watch local watermen harvest clams, oysters or the famous Chesapeake Bay Blue Crab. After a light lunch onboard, disembark to visit the Third Haven Friends Meeting House, the oldest frame house of worship in the United States, to learn about the Quaker community. This evening, learn to cook the perfect Maryland crab cake. B, D
DAY 5—ASSATEAGUE WILD PONIES/REHOBOTH BEACH BOARDWALK
Start today with a visit to the Harriett Tubman Historical Park and walk in her footsteps as we learn of the courageous woman. After lunch, visit the wild ponies of Assateague. A naturalist explains how these beautiful creatures have roamed the beaches, pine forest, and salt marshes of this unique, endangered area since the 1600s. Later, unpack at your hotel near Rehoboth Beach Boardwalk, rated one of the top boardwalks in the U.S.! Explore, dine on your own, and try some famous Dolle's saltwater taffy and fudge! B, L
DAY 6—"FIRST CITY"/DOVER AFB/HIGH TEA
Today enjoy breakfast in historic Lewes, Delaware, the first city in the first state! Learn about Delaware during a guided tour of this charming and well preserved town. Next, visit Dover Air Force Base and the Air Mobility Command Museum, dedicated to airlift and air refueling history. See a retired Air Force Two and other craft, and get inside an air traffic control tower. You'll have a light snack to save room for this afternoon's proper High Tea in the elegant and luxurious Hotel du Pont. B, Afternoon Tea
DAY 7—MUSHROOM CAPITAL/HOME
Before returning to Washington DC, stop in Kennett Square, the Mushroom Capital of the World, to learn how mushrooms are farmed and harvested at Phillips Gourmet Mushrooms, the nation's largest grower of specialty mushrooms. Finally, head to the airport and home with a new appreciation for our capital and the "crossroads of the mid-Atlantic" states. B
Apr 28-May 4, 2018 | Sep 22-28, 2018
Depart/Return: Washington, DC
Price Per Person:
Double: $1,727; Single: $2,185
Pre/Post-Tour Hotel: $198/night
Average Temps

high 70°/ low 51° (Apr)
high 75°/ low 57° (Sep)
Time Zone
Eastern
Arrival Time
Schedule your flight to arrive by 5:00 p.m. on Day 1.
Departure Time
Schedule your flight home any time after 5:30 p.m. for April departure and 3:00 p.m. for September departure on Day 7.
Airport Info
Our starting hotel offers complimentary shuttle service to/from Ronald Reagan National Airport.
Vehicle Parking
Parking is available during the tour at our starting hotel at a fee of $10 per car per day.
Walking Distance
Moderate to moderately extensive walking is required to fully enjoy this tour. Some walking can be on uneven surfaces.
Currency
US Dollar
Hotel Amenities
Refrigerators, microwaves, hair dryers, irons, ironing boards, coffee makers, swimming pools and exercise rooms throughout tour.
Additional Information
Further information is mailed upon receipt of your reservation. A total of three mailings are sent to assist you in preparing for your tour…Get Ready, Get Set and Go! Our "Get Ready" packet is sent confirming your reservation. Our "Get Set" packet provides further information approximately 90 days prior to departure with important details regarding making your travel arrangements. Finally, our "Go" packet arrives 2-3 weeks before departure containing your final documents.
Updates
Updates to this document are available from our Discovery Reservations Team, and will be posted online at CountryTravelDiscoveries.com/DCD.
Travel Protection Available?
Yes, see CountryTravelDiscoveries.com/TravelProtectionPlan.
Terms & Conditions
Tour reservations are subject to the terms and conditions on our website at CountryTravelDiscoveries.com/terms.
Groups
Have a group? We can make your group's vacation cost-effective and easy, with discounts for groups as small as five and other benefits. Learn more at CountryTravelDiscoveries.com/groups.
Share it
---