Crème de la Crème, "the best of the best", is the perfect description for this tour. Discover the beauty of Eastern Canada as we enjoy eight nights in luxurious and historic Fairmont Canadian hotels, each newly revitalized to their unique character. Highlights of this trip include visiting the Ottawa Tulip Festival, a voyage on the famous Maid of the Mist in Niagara Falls, and a cruise down the Rideau Canal - a UNESCO World Heritage Site.
• Stay in four historic Fairmont luxury hotels
• Enjoy city tours of Eastern Canada's largest cities, Toronto, Quebec City, Montreal & capital Ottawa
• Spend time at Canada's Tulip Festival
• Take a boat cruise on the Rideau Canal, a UNESCO World Heritage Site
• Savor local cuisines
• See Niagara Falls up close on the Maid of the Mist
• Free airport shuttle
• Bag handling (1 per person) at hotels
• Fees & tips for included attractions/meals
• Welcome dinner, 24-hour emergency call service, free bottled water on coach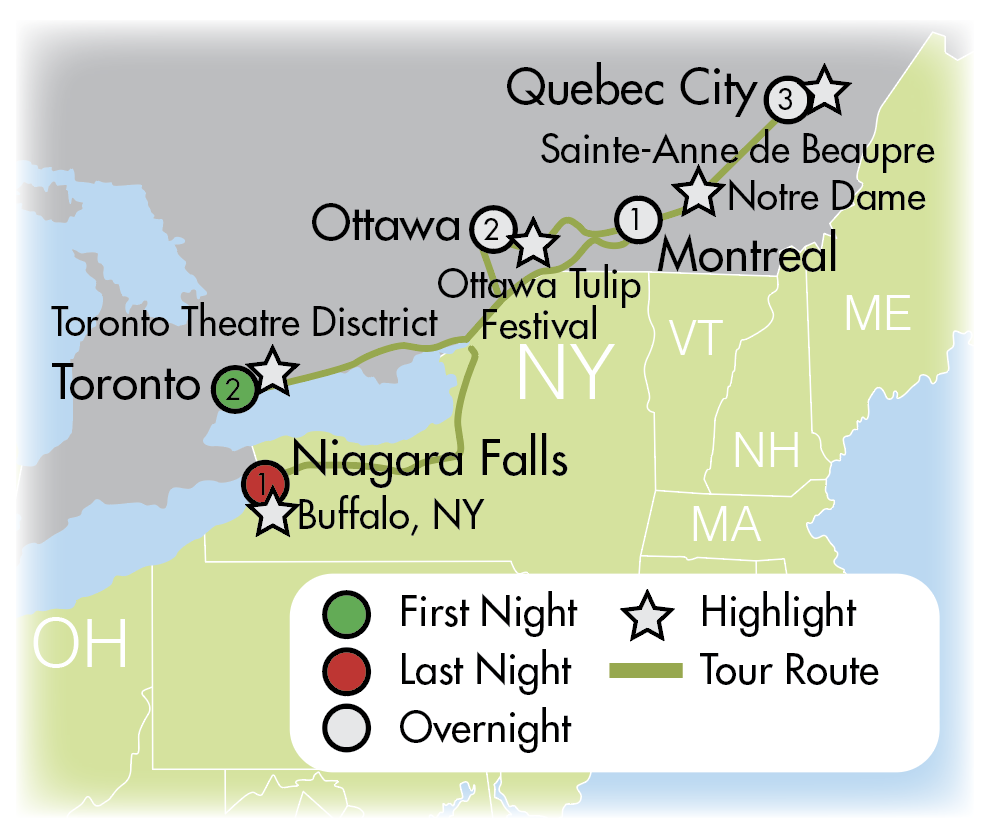 DAY 1—TORONTO, ONTARIO*
Arrive into trendy Toronto for a two-night stay in the centrally located 4-star Fairmont Royal York with hand-painted ceilings and glamorous chandeliers that harken back to it's opening in 1929. D

*For those folks wishing to start their tour in the US, we are providing a motorcoach transfer from Buffalo NY to Toronto on Day 1. Arrival the day before into Buffalo would be require for this option.

DAY 2—CITY TOUR/CN TOWER/THEATER
Explore the bustling city of Toronto with a local expert. After lunch, rise 1,136 ft in 58 seconds to the observation deck of the CN Tower for an eagle's eye view of the city. Afternoon free to explore. Attend a live theater production (TBD) in the Toronto Theatre District, the largest in Canada. B, L
DAY 3—OLD QUEBEC CITY
Travel to Quebec and enjoy a traditional sugar shack dinner experience with live entertainment and poured "taffy on snow" for dessert. Standing grand on a bluff overlooking the mighty St. Lawrence River, 5-star Fairmont Le Château Frontenac is not merely hotel located in the heart of Old Québec - it IS the heart of Old Québec! B, D
DAY 4—QUEBEC CITY TOUR
Join our local guide for informative exploration of the most European of North American cities, Quebec City. See the massive stone architecture, the heavily fortified walls and the charm of Old Quebec City. This afternoon is free to explore, shop and acclimate into the local culture before dinner at the historic Aux Anciens Canadiens for traditional Quebec fare. B, D
DAY 5—MONTMORENCY FALLS/ST ANNE DE BEAUPRE
Visit Montmorency Falls for a memorable cable car ride to the top to savor lunch at Manoir Montmorency and time to enjoy top of the falls views of the Isle de Orleans and St. Lawrence River. Travel east to St. Anne de Beaupre, the impressive basilica attracts more than a million pilgrims and visitors each year! B, L
DAY 6—MONTREAL CITY TOUR
Travel to Montreal for a stay at the 4-star Fairmont Queen Elizabeth. A local tour guide will acquaint us with Montreal's cultural heritage and cosmopolitan blend of old and new as we see all the "must-see sights" including Montreal's crown jewel, the Notre-Dame Basilica. B, D
DAY 7—CANADIAN MUSEUM OF HISTORY
Journey to Canada's beautiful capital city of Ottawa for a two-night stay at the 4-star Fairmont Château Laurier, a magnificent limestone edifice with turrets and masonry reminiscent of a French Château. Visit Canada's largest and most popular cultural institution, The Canadian Museum of History. B, D
DAY 8—CANADIAN TULIP FESTIVAL
Discover the sites of Ottawa and the Tulip Festival, featuring more than three million tulips. Board a 100% electric boat for a cruise tour on the Rideau Canal, UNESCO World Heritage Site, to learn about its historic engineering and enjoy views of Ottawa's highlights. The evening is free for you to explore. B
DAY 9—NIAGARA FALLS, USA
Cross the US border into Niagara Falls, NY for dinner at Top of the Falls featuring eagle eye views of the majestic falls. Overnight stay at the DoubleTree by Hilton, located along the upper Niagara River. B, D
DAY 10—NIAGARA FALLS STATE PARK
Did you know 3,160 tons of water flow over the falls every second? Board the world-famous Maid of the Mist for a thrilling boat ride under the falls! This afternoon continue on to Buffalo and home, taking with you magnificent memories of Eastern Canada. B

Nights 1-2: Fairmont Royal York, Toronto
Nights 3-5: Fairmont Le Chateau Frontenac, Quebec City
Night 6: Fairmont Queen Elizabeth, Montreal
Nights 7-8: Fairmont Chateau Laurier, Ottawa
Night 9: Double Tree by Hilton, Niagara, NY
Dates:
May 7-16, 2022

Price Per Person:
Double $3,697
Single $5,115
Pre-Tour Hotel Toronto: $358/night
Post-Tour Hotel Buffalo: $188/night
Depart:
Toronto, ON, Canada*
or take our optional motorcoach transfer from Buffalo to Toronto on Day 1. A pre-night stay in Buffalo would be required for this option.

Return:
Buffalo, NY
Average Temps
May: Highs: mid 60's – Lows: high 40's
Time Zone
Eastern Time
Arrival Time
If you are flying into Toronto schedule your flight to arrive by 3:00 p.m. on Day 1.

**For those folks wishing to start their tour in the US, we are providing a motorcoach transfer from Buffalo NY to Toronto on Day 1. Arrival the day before into Buffalo would be required for this option.
Departure Time
Schedule flights to depart Buffalo after 4:00 p.m. on Day 10.
Airport Info
If arriving into Buffalo, the pre-night hotel offers complimentary shuttle service from the airport to the hotel.

Vehicle Parking Complimentary for duration of tour if arriving into Buffalo and utilizing a pre-night stay.
Walking Distance
Moderate walking at a leisurely pace is required to fully enjoy this tour. Some walking will be on uneven paths.
Hotel Amenities
Hair dryers, TV/cable and telephone services available at hotels.
Additional Information
Dress on tour is casual.
Further information is mailed upon receipt of your reservation. A total of three mailings are sent to assist you in preparing for your tour…Get Ready, Get Set and Go! Our "Get Ready" packet is sent confirming your reservation. Our "Get Set" packet provides further information approximately 90 days prior to departure with important details regarding making your travel arrangements. Finally, our "Go" packet arrives 2-3 weeks before departure containing your final documents.
Updates
Updates to this document are available from our Discovery Reservations Team, and will be posted online at www.CountryTravelDiscoveries.com/CDC
Travel Protection Available?
Yes, see CountryTravelDiscoveries.com/TravelProtectionPlan.
Terms & Conditions
Tour reservations are subject to the terms and conditions on our website at CountryTravelDiscoveries.com/terms.
Groups
Have a group? We can make your group's vacation cost-effective and easy, with discounts for groups as small as five and other benefits. Learn more at CountryTravelDiscoveries.com/groups.
Share it
---