Step aboard the luxurious, modern MS Amadeus Cara (built in 2021) and cruise from Basel, Switzerland to Amsterdam, Netherlands. This vacation through 4 countries (Switzerland, France, Germany, and The Netherlands) explores the unique highlights of Western Europe, including a tour of Cologne Cathedral, a cheese making demonstration in the Dutch town of Hoorn, and an exploration of the grand Reichsburg Castle in Cochem... just to name a few.
Join CTD on this luxurious, modern ship chartered special exclusively for CTD and Sunrise Tour travelers
7 nights aboard the luxurious the MS Amadeus Cara (2021)
3-night pre-cruise stay in the Black Forest exploring one of Germany's most beautiful natural areas
Sightseeing tours of Basel, Strasbourg, Heidelberg, Rüdesheim, Koblenz, Cochem, Reichsburg Castle, Cologne, and Amsterdam
Gourmet dining with all meals (breakfast, lunch, dinner and midnight snack)
Included quality red and white wines from Europe's top wineries
Cocktail Reception, Welcome Dinner,and Captain's Gala Dinner
Gratuities to crew, cruise director, and local guided included – over a $150 per person value
24-hour emergency call service while en-route to/from our tour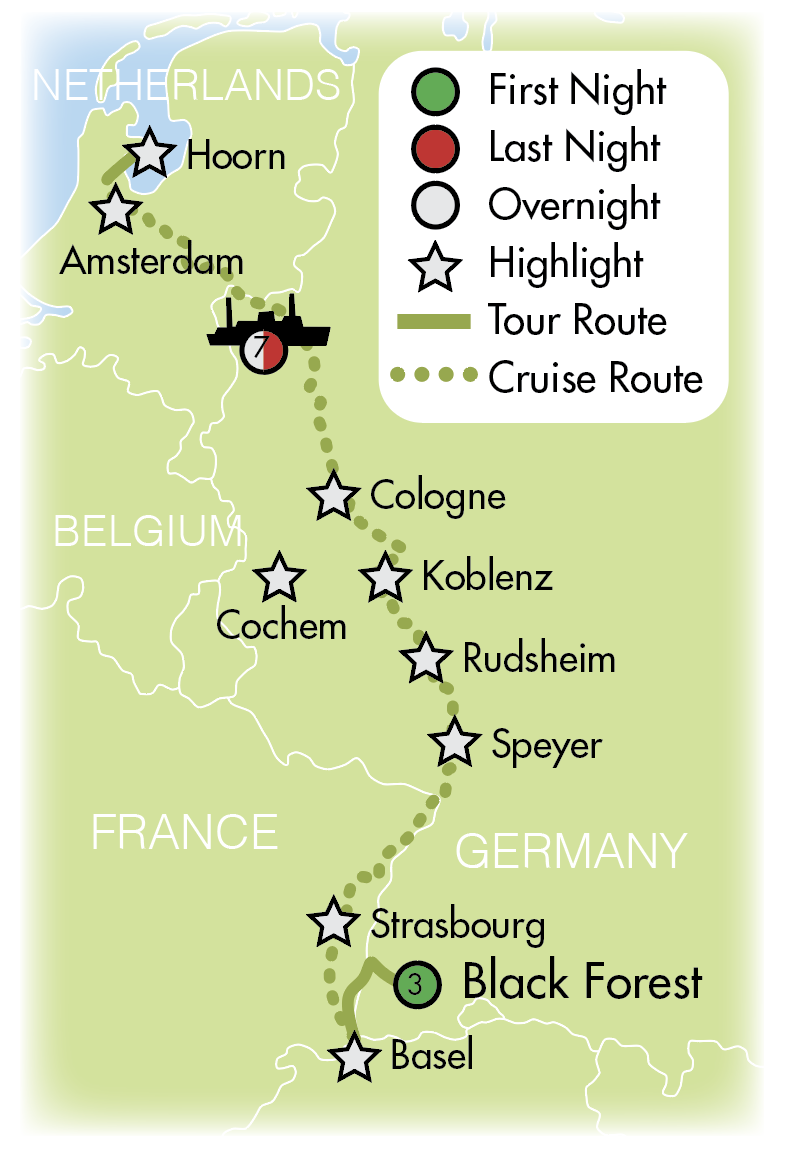 DAYS 1/2—WELCOME TO EUROPE/BLACK FOREST RESORT
Depart the U.S. for Zurich, Switzerland, upon arrival we'll travel to our hotel in Germany at the historic Hofgut Sternen - The Black Forest Village for a welcome dinner and guided tour of the historic resort. D
DAY 3—THE BLACK FOREST
Enjoy a full day excursion through the Black Forest, a beautiful area in southwestern Germany known for its evergreen forests and picturesque villages, most often associated with the Brothers Grimm fairy tales. Visit Triberg Waterfalls, one of the highest in Germany, the Black Forest Museum, the famous Cuckoo Clock Museum, and a local schnapps distillery. B, D
DAY 4—FREIBURG IM BREISGAU
Guided walking tour of Freiburg, a diverse university city known for its reconstructed medieval old town. Explore the city's major highlights including the Freiburg Munster Cathedral, Swabian Gate, Merchants House, and the picturesque scenery around Market Square. B, D
DAY 5—EMBARKATION FROM BASEL
Breakfast at hotel and transfer to Basel for guided walking tour of the lovely Swiss city. Later, get comfortable in your stateroom and enjoy a first-class welcome dinner and cocktail reception while cruising toward Strasbourg. B, D
DAY 6—STRASBOURG
Enjoy a morning guided tour of Strasbourg, the "crossroads of Europe" located in the Alsace region of France and seat of the European Parliament. Considered one of Europe's most attractive cities, you will begin with a panoramic coach tour and a walking tour featuring the Old Quarter, La Petite France, the famous Cathedral, and the historic half-timbered houses. B, L, D
DAY 7—SPEYER AND MANHEIM
Arrive in the Rhineland town of Speyer, an important town in the Holy Roman Empire. Enjoy an included half-day excursion to Heidelberg, known for its romantic setting around the well preserved Baroque Old Town. B, L, D
DAY 8—RÜDESHEIM AND KOBLENZ
Discover Rüdesheim on a guided walking tour and take the unique Winzerexpress train to witness the "Siegfried Mechanical Music Cabinet", the classic self-playing instruments. Cruise the stunning Rhine River Gorge as we make our way to Koblenz, one of the oldest inhabited towns in Germany. B, L, D
DAY 9—COCHEM
A scenic cruise on the Mosel River brings us to Cochem, where you'll feel as through you've floated into a fairytale. Enjoy a guided walking tour of Cochem, one of the most photographed villages in Germany, and visit the grand Reichsburg Castle. B, L, D
DAY 10—COLOGNE
After lunch, the ship docks for a fascinating city walk through Cologne, the cultural center of the Rhineland founded by Roman Emperor Claudius over 2,000 years ago. Your guided tour will include the Old Quarter, Cathedral Square, and Cologne Cathedral, a UNESCO World Heritage Site. B, L, D
DAY 11—HOORN AND AMSTERDAM
Arrive in the Dutch town of Hoorn and take a scenic drive to the traditional fishing village of Volendam for a cheese making demonstration. Cruise the serene canals of Amsterdam to experience the history and beauty of the consisting of 90 islands linked by over 400 bridges. B, L, D

DAY 12—FAREWELL
Today, we say farewell and bon voyage! Disembark in Amsterdam after breakfast and fly back to the US. B
Quality Accommodations
Nights 2-3: Hofgut Sternen, Breitnau, Germany
Nights 4-11: MS Amadeus Cara

Dates:
Sep 23-Oct 4, 2022

Price Per Person from:
Double $5,747*
Land only pricing available
Depart/Return: Chicago, IL or Washington DC

Pre/Post Hotel: $188/night

*Prices vary based on stateroom category. See detailed pricing info. This tour is NOT eligible for Travel More, Save More discount pricing.

Mandatory port taxes (per person): $165



C Window, Stern, Haydn Deck - $5,747
C Window, Forward, Haydn Deck - $5,847

B Drop-Down Panoramic Windows*, Stern, Strauss Deck - $6,497

B Drop-Down Panoramic Windows*, Mid, Strauss Deck - $6,597
B Drop-Down Panoramic Windows*, Forward, Strauss Deck - $6,697
A Drop-Down Panoramic Windows*, Stern, Mozart Deck - $6,797
A Drop-Down Panoramic Windows*, Mid, Mozart Deck - $6,897
Suite, Mid, Mozart Deck - $7,647
Suite, Forward, Mozart Deck - $7,747
Singles, Haydn Deck - $6,747

Average Temps
high 61°/ low 45° (Basel)
high 55°/ low 40° (Amsterdam)
Time Zone
+7 hours from Central Time
Arrival Time
Available 90 days prior to the tour.
Departure Time
Available 90 days prior to the tour.
Airport Info
Pre/Post Hotel offers complimentary shuttle service.
Vehicle Parking
Free parking is offered during the tour at our hotel in Chicago with a Pre- or Post-tour night booked, only. East coast hotels will be booked on an individual basis.
Walking Distance
Moderate to extended walking is required to fully enjoy this tour. Some walking will be on uneven paths.
Currency
Euro (Germany, Netherlands), Swiss Franc (Switzerland)
Hotel Amenities
Hair dryers, TV/cable, telephone, coffee makers, laundry available at hotels.
Ship Amenities Include
Sun Deck, Two Bars, Large Chess Board on Sun Deck, Gourmet Dining, Fitness Room, Massage, Hairdresser, Lift (except to Sun Deck), Gift Shop. In all rooms: Flat screen TV, Safe, Hair Dryer. All rooms except Haydn Deck have French Balcony. Suites have balcony.
Additional Information

Land Tours begin one day later. Airport transfers not included with Land Only Tours. Air & Land Tours include government imposed taxes, fees and airline fuel surcharges at time of printing.
Further information is mailed upon receipt of your reservation. A total of three mailings are sent to assist you in preparing for your tour…Get Ready, Get Set and Go! Our "Get Ready" packet is sent confirming your reservation. Our "Get Set" packet provides further details approximately 90 days prior to departure with important details regarding making your travel arrangements. Finally, our "Go" packet arrives 2-3 weeks before departure containing all your final documents.
Updates
Updates to this document are available from our Discovery Reservations Team, and will be posted online at CountryTravelDiscoveries.com/RRC.
Travel Protection Available?
Yes, see CountryTravelDiscoveries.com/TravelProtectionPlan.
Terms & Conditions
Tour reservations are subject to the terms and conditions on our website at CountryTravelDiscoveries.com/terms.
Groups
Have a group? We can make your group's vacation cost-effective and easy, with discounts for groups as small as five and other benefits. Learn more at CountryTravelDiscoveries.com/groups.
Share it
---