Enter a real winter fairytale. Visit the best Christmas Markets along the Danube and explore delightful river towns.Embrace the aroma of roasting chestnuts and seasonal pastries. Warm up with a delicious glass of mulled wine as we immerse ourselves in the splendid traditions of the Christmas holidays. Join CTD President Steve Uelner for what promises to be a holiday trip of a lifetime!Q

Country Travel DISCOVERIES has chartered the entire ship, exclusively for our travelers. We'll enjoy seven days aboard the luxury ship MS Amadeus Star, christened in 2019.
Included sightseeing tours of Wurzburg, Rothenburg, Nuremburg, Passau, Vienna and more
Gratuities to crew, cruise director, and local guides included—over a $150.00 per person value (most European River Cruise companies do not include these)
Fascinating river cruise with large, outside river-view staterooms, most with floor to ceiling windows.
Modern, larger staterooms with more space than many Viking and AMA cabins
Professional, English-speaking crew-to-passenger ratio of 1 to 3
Complimentary state-of-the-art audio headsets for excursions
Gourmet dining with all meals included (buffet breakfast, lunch, dinner and midnight snack) in the elegant Panorama-Restaurant, which accommodates all guests in one seating
Included quality red & white wines from Europe's famous wine regions (as well as beer and soda) with every dinner on board
Cocktail Reception, Welcome Dinner and Captain's Gala Dinner
Special onboard entertainment including professional locals entertaining, cooking demonstration, festive meals, and music by the Amadeus Duo
Bag handling at hotels and on ship
Services of experienced cruise director throughout the cruise
Onboard Concierge Service, dedicated to the independent experience seeker
Non-smoking environment (smoking permitted in small outside area of the Sun Deck)
Entrance fees for included attractions
Exclusive on board Bavarian and Vienna Orchestra Quartet performance
Round-trip air from U.S. to Europe, with European airport transfers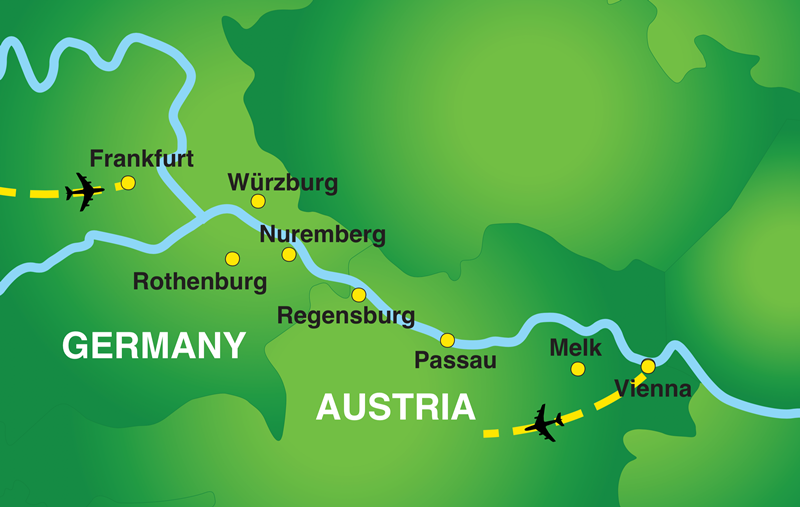 DAYS 1-2—UNITED STATES/WELCOME TO FRANKFURT
Welcome to the energetic city of Frankfurt*, with its futuristic skyline and dynamic culture. The city's dazzling contemporary buildings are as fascinating as the stunning Gothic architecture of the Frankfurt Cathedral, the ornately designed Römer, and the beauty of the Alte Oper. This afternoon, we'll travel to the village of Marktheidenfeld and settle into our hotel for the next two evenings, the Hotel Zur schönen Aussicht. This inn was built in 1848, overlooks the Main River, and is located at an ideal spot near the romantic Old Town, Franconian vineyards and romantic forests. Tonight we gather together for a welcome dinner. L, D

DAY 3—WÜRZBURG
This morning, travel to the magical town of Wurzburg to revel in the opulent baroque and rococo architecture of this charming city. Once the great seat of power for the prince-bishops of Germany, no visit to Würzburg is complete without a visit to the Würzburg Residence and gardens. This lavishly-appointed palace is on the UNESCO World Heritage List and illustrates the grand power of the ancient regional rulers. We'll also visit the historical and celebrated Juliusspital for lunch, followed by a stroll through its storied wine cellar. Afterwards, enjoy free time to explore and discover the charismatic Wurzburg Christmas Market in Wurzburg. B, L, D

DAY 4—ROTHENBURG/MS AMADEUS STAR
In Rothenburg, the local Cellar Master welcomes us with a 1600s reception, after which we take a guided stroll within the storied walls of this medieval town. Then explore the town's 500-year-old Christmas market, the Reiterlesmarkt. Enjoy roasted chestnuts and perhaps special white mulled cider while browsing the traditional local gifts. And, before leaving, we'll be treated to coffee and a Schneeballen pastry, a favorite of this region. Later a real "WOW" moment strikes as we board our home for the next six nights in Nuremburg, the MS Amadeus Star. A masterpiece of engineering and ship design, the deluxe Star was christened in 2019. The festive excitement is palpable as we board to a holiday welcome dinner hosted by CTD President Steve Uelner. Our luxury ship staterooms on the Mozart and Strauss Deck feature panoramic windows which extend across the entire front and have been specially designed for the AMADEUS ships (this state-of-the-art design provides more inside room versus competitor ships). All staterooms and suites offer comfortable, spacious bathrooms, infotainment systems, flat screen television, telephone, cabin safe, minibar and air conditioning which can be individually regulated. The suites also feature external balconies. B, D

DAY 5—NUREMBERG
Home to the famous Nuremberg Lebkuchen (gingerbread)! Our magical Advent journey to the most beautiful Christmas markets along the Danube commences with an introductory sightseeing tour through a festively decorated Nuremberg. The highlight follows—the famous Nuremberg Christmas market, where culinary specialties, artisan crafts and regional products fill the air. This afternoon, we set sail on the Danube for Regensburg. B, L, D

DAY 6—REGENSBURG
As you enjoy breakfast, we reach the Bavarian town of Regensburg, which boasts one of the best-preserved medieval old towns in Germany. A guided city walking tour will showcase the city's most beautiful side, and in the afternoon a visit to the Thurn and Taxis Castle and its renown Christmas Market complements the jubilant atmosphere. On board before dinner, a local Bavarian group entertains us…and later, as we dine, we depart for Passau. B, L, D

DAY 7—PASSAU
We arrive in Passau, the romantic "City of Three Rivers". After breakfast, enjoy your morning relaxing on board our MS Amadeus Queen, decorated up for the Yuletide season, or join in a guided walking tour through this picturesque town where the Danube, Inn and Ilz Rivers meet. After lunch, visit the festively decorated Christmas market in Passau. Later our ship weighs anchor and sets sail for Austria. B, L, D

DAY 8—MELK ABBEY/VIENNA
We begin our day with a visit to the spectacular Melk Abbey…CTD travelers consistently rave about this moving experience. Later this morning, we'll return to our ship and cruise this afternoon among one of the most beautiful landscape regions in Austria – the Wachau Valley. Following dinner, you'll be in awe as we take a ride into the heart of Vienna's City Center to experience its colorful kaleidoscope of lights and decorations, along with Vienna's illuminated display of parliament and museums. A perfect atmosphere for the Yuletide Season! B, L, D

DAY 9—VIENNA
Today will be devoted to the magical Danube city of Vienna. Enjoy a sightseeing trip which will take you to see more of the most beautiful sights and elegant buildings in Vienna. This afternoon, you may wish to return to the famous Christmas village on Maria-Theresien-Platz, set between the Museums of Natural History and Art. The aromas of Lebkuchen (gingerbread) and roasted almonds combine for a savory Advent experience. Tonight, our captain's Gala Dinner takes place, capped off by an exclusive on-board quartet holiday performance by members of Vienna's Philharmonic Orchestra. B, L, D

DAY 10—AUF WIEDERSEHEN
After breakfast on board, we head to the airport for our included flight back home. We are sure you will return home with long-lasting memories of our travels among the most festive Christmas Markets in the world! B

Quality Accommodations
Nights 2-3: Marktheidenfeld
Nights 4-9: MS Amadeus Star
December 1-10, 2023

Depart/Return: Chicago, IL or Washington, DC

BOOK by Dec 31, 2022 to SAVE!

Reserve using code CMC21A by Dec 31, 2022 and take $250.00-750.00 OFF
depending upon stateroom. Call us at 262-923-8120 for more details.

Price Per Person from:
Double $4,297**; Single $5,297
**Prices vary based on stateroom category. See detailed pricing info ship map below. Land-Only pricing also available -- PLEASE CALL TO RESERVE. This tour is NOT eligible for Travel More, Save More discount pricing. Mandatory port taxes (per person): $165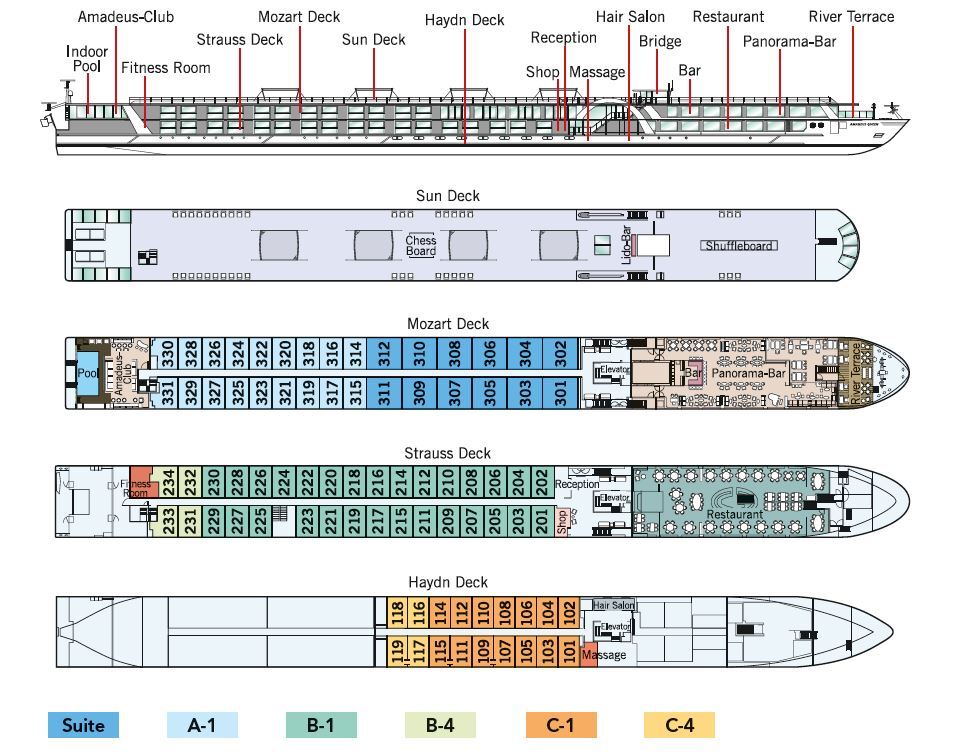 C Window, Haydn Deck - $4,297

B Drop-Down Panoramic Windows*, Stern, Strauss Deck - $5,197
B Drop-Down Panoramic Windows*, Mid, Strauss Deck - $5,297
B Drop-Down Panoramic Windows*, Forward, Strauss Deck - $5,397
A Drop-Down Panoramic Windows*, Stern, Mozart Deck - $5,597
A Drop-Down Panoramic Windows*, Mid, Mozart Deck - $5,697
Suite, Mid, Mozart Deck - $6,297
Suite, Forward, Mozart Deck - $6,397
Singles, Haydn Deck - $5,297

Average Temps
highs low to mid 40's/ lows low to mid 30's

Time Zone
+7 hours from Central Time
Arrival Time
Available 90 days prior to the tour.
Departure Time
Available 90 days prior to the tour.
Airport Info
Pre/Post Hotel offers complimentary shuttle service.
Vehicle Parking
Free parking is offered during the tour at our hotel in Chicago with a Pre- or Post-tour night booked, only. East coast hotels will be booked on an individual basis.
Walking Distance
Moderate to extended walking is required to fully enjoy this tour. Some walking will be on uneven paths.
Currency
Euro

Hotel Amenities
Hair dryers, TV/cable, telephone, coffee makers, laundry available at hotels.
Ship Amenities Include
Sun Deck, Two Bars, Swimming Pool, Large Chess Board on Sun Deck, Gourmet Dining, Fitness Room, Massage, Hairdresser, Lift (except to Sun Deck), Gift Shop. In all rooms: Flat screen TV, Safe, Hair Dryer. All rooms except Haydn Deck have French Balcony. Suites have balcony.
Additional Information
Land Tours begin one day later. Airport transfers not included with Land Only Tours. Air & Land Tours include government imposed taxes, fees and airline fuel surcharges at time of printing.
Further information is mailed upon receipt of your reservation. A total of three mailings are sent to assist you in preparing for your tour…Get Ready, Get Set and Go! Our "Get Ready" packet is sent confirming your reservation. Our "Get Set" packet provides further details approximately 150 days prior to departure with important details regarding making your travel arrangements. Finally, our "Go" packet arrives 2-3 weeks before departure containing all your final documents.
Updates
Updates to this document are available from our Discovery Reservations Team, and will be posted online at CountryTravelDiscoveries.com/CMC.
Travel Protection Available?
Yes, see CountryTravelDiscoveries.com/TravelProtectionPlan.
Terms & Conditions
Tour reservations are subject to the terms and conditions on our website at CountryTravelDiscoveries.com/terms.
Groups
Have a group? We can make your group's vacation cost-effective and easy, with discounts for groups as small as five and other benefits. Learn more at CountryTravelDiscoveries.com/groups.
Share it
---