Looking for our 2019 Captivating Croatia Tour? Click here.

From cobblestone streets to vineyards perched on the side of a mountain, Croatia is both charming and mesmerizing. We'll explore this delightful country from Zagreb down the scenic Adriatic Coast to Dubrovnik. Along the way, we'll see magnificent architecture, stunning natural wonders and historical sites dating back to the Middle Ages. We'll enjoy a taste of this Mediterranean nation en route, including olive oils, cheeses, meats and wines. What sets our journey apart is the people we'll meet - dairy farmers, craftsmen, and local residents who share their way of life with us. Join us as we travel this intriguing and off-the-beaten-path jewel.

Explore Croatia's capital city of Zagreb
Take in the beautiful lakes, caves and waterfalls of Plitvice Lakes National Park
Explore the Church of St. Donat, the site of a Roman Forum
Visit olive trees over 1,000 years old on Pag Island
Savor paški sir cheese, Pag Island's own sheep's milk cheese
Tour Roca and taste their prosciutto
Hear the story of Diocletian and his palace during your exploration of Split
Taste oysters plucked fresh from the Adriatic Sea
Meet the family behind the Miloš Winery
Discover the Elaphiti Islands by boat
Airport Meet-and-Greet service, English-speaking tour rep and guides
Bag handling (1 per person) at most hotels
Welcome dinner, 24-hour emergency call service, round-trip air from U.S.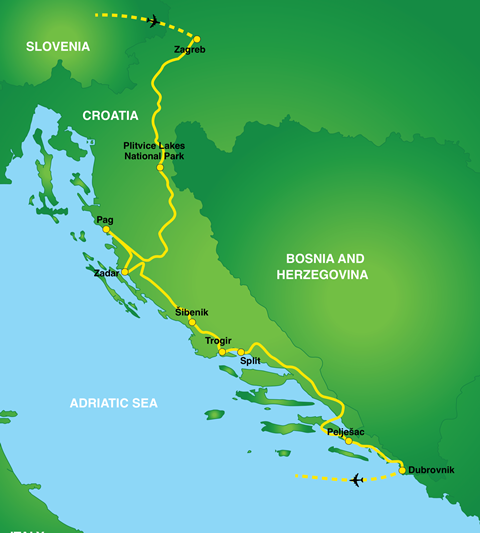 DAY 1/2—WELCOME TO HISTORIC ZAGREB
After landing at Zagreb Airport, our group will be greeted by our English-speaking guide before transferring to our accommodations for the evening. Following an overnight flight, take in your first glimpse of Croatia's largest city's diverse architecture, ranging from Romanesque to Baroque to modern minimalist. We're welcomed to this fascinating capital city with a private gathering and dinner. Hosted by the modern Hotel Palace, we'll stay here for the night in the heart of Zagreb. D
DAY 3—ZAGREB BUS AND WALKING TOUR
Our group's first full day features an exploration of Zagreb, a city dating back to the Middle Ages, both on foot and by bus. As Croatia's capital since 1991, Zagreb is the cultural and positional center of the country, and home to almost one million residents. Considered the boisterous capital of a self-assured young nation, Zagreb is rich with unique buildings, museums, sports centers, historic churches, universities, street food and fine dining. After lunch at a local eatery, we'll start to explore Plitvice Lakes National Park. Hotel Mrijana Rastoke is our home away from home for the night. With every possible amenity and top-notch finishes, the hotel is just a few miles from Korana river and next door to a stand selling local goods like homemade rakija (fruit brandy), honey, cheeses, souvenirs, crafts and more. B, L
DAY 4—PLITVICE LAKES NATIONAL PARK VISIT/WALKING TOUR OF ZADAR
Today we continue our visit to Plitvice Lakes National Park, the oldest and largest national park in the Republic of Croatia. An oasis fit for the pages of a storybook, this natural wonder is made up of 16 lakes, each one cascading into the next. Rich, blue-green waters flowing over limestone and chalk have, over time, deposited travertine barriers to create natural dams, beautiful lakes, caves and waterfalls. Keep an eye out for the bears, wolves and rare bird species that call this lush, all-natural water park home. After lunch, continue to Zadar, the oldest continuously inhabited city on Croatia's Dalmatian coast. We'll enjoy a guided walking tour along the streets of Zadar's old town. Get out the camera to snap pictures of the Church of St. Donat, the site of the Roman Forum, the Cathedral of St. Anastasia, and also the Sea Gate, Land Gate, City Walls and 5 Wells Square. We'll stay the next two nights at Pinija Hotel—a hotel situated on a natural peninsula overlooking the sea. B, L, D
DAY 5—OLIVE GARDENS OF LUN/GLIGORA CHEESE FACTORY/CHEESE TASTING
This morning we'll travel to the northern most tip of Pag Island, where our group will stroll the famous Olive Gardens of Lun. The olive trees here cover 24 hectares and are home to over 80,000 oblica cultivar trees. The average tree is 1,200 years of age and the elder of the grove—and all of Lun—is an astonishing 1,600 years old. Oh, the secrets they could tell. Lunch will be had in a local restaurant where "under the bell" style meat is the star. This traditional Croatian cooking technique involves roasting in-season meat or seafood in the embers of a fireplace. Save room to taste cheese at the Gligora Cheese Factory, which is our next stop. This dairy is one of the most awarded in the entire world and famous for their paški sir, a hard, sheep's milk cheese which originated on the island. B, L, D
DAY 6—ROCA VISIT AND TOUR OF ŠIBENIK
After breakfast, we'll make our way to Roca, an agricultural facility specializing in ham style prosciutto production. We'll tour the facility and savor some prosciutto on our visit. On to Sibenik, a city perched on Croatia's Adriatic coast. Our group walk will take us through the narrow streets which lead to attractive squares featuring architecture of centuries gone by. We'll pass the St. Francis Church and Monastery, Theater house, Baroque Orthodox Church, City Hall and cave dedicated to Holy Mary of Lourdes. The highlight of the walking tour will be the Cathedral of St. Jacob, the city's most important monument. The Gothic and Renaissance style cathedral was declared a UNESCO World Heritage Site in 2000. We settle in for the next two nights at Hotel Stacija near Split. B, D
DAY 7—DIOCLETIAN'S PALACE TOUR AND GUIDED TROGIR WALK
Today during our guided tour of Croatia's second largest city of Split, we'll discover the city of the emperor Diocletian who originated from a modest family named Diokles and rose up to become a Roman emperor. The emperor lived out his days in Split, where he built his villa fortress that bears his name— Diocletian's Palace. The Adriatic town's beauty is characterized by its many pale sand beaches, glistening blue water and the warm terra cotta roofs that cap white buildings lining the coast. Back in Trogir we'll listen to a knowledgeable guide tell stories and legends about the area while walking though the city's charming narrow streets. We'll also have the chance to admire the 13th Century St. Lawrence Cathedral and Radovan's Portal. B, L
DAY 8—OYSTER TASTING & BOAT TOUR/MILOŠ WINERY
Welcome to Pelješac, the second largest peninsula in Croatia. We'll start at Bota-Šare restaurant with a boat tour and for those who wish, a tasting of oysters plucked fresh from the sea. We'll later tour Miloš Winery, where the Miloš family has been growing grapes and producing wine for generations. Handcrafted vineyards and ecological production show the effort this family puts into every detail of their craft. Known for their Stagnum Rosé, the winery produces in small batches, ensuring every drop is carefully crafted and unique. The vibrant green vines grow high on a hill, giving those touring the vineyard a birds' eye view of the water below. Continue to Dubrovnik and Hotel Valamar Lacroma for the next three nights, a modern four-star hotel known for its sophisticated design and scenic views of the Adriatic. B, L, D
DAY 9—DUBROVNIK
One isn't likely to find a city in Europe—or the world, for that matter—where well-preserved medieval walls, red-tiled roofs and marble streets meet the cobalt blue of the Adriatic Sea. Dubrovnik is a unique gem, which we'll discover as we stroll down the limestone-clad pedestrian walkway known as Stradun and learn all about the history of this city dating back to the 7th Century. After lunch in old town, you can choose your own adventure: an afternoon of free-time amongst the shops or a city walk to Game of Thrones filming locations. After taking in the city's sights, our group will converge at the hotel to refresh before settling in for a Folklore dinner in a quaint village restaurant, complete with traditional Croatian food and music. B, D
DAY 10—ELAPHITI ISLANDS
Our morning will begin with discovering the Elaphiti Islands by boat. The archipelago, made up of 13 islands, is located to the northwest of Dubrovnik. Deep evergreen forest covers most of these islands, which are scattered throughout the Adriatic Sea. It was Pliny the Elder who termed them the Elaphiti Islands. Named after the Greek word Elaphos—meaning deer—one can conclude that these animals populated the islands at that time. Only a few of the islands are permanently inhabited, allowing us to see this natural wonder in all its untouched glory. The tour will bring us by Kolocep, Lopud and Sipan, considered the three of the most beautiful islands. After lunch on the boat, we'll head back to the hotel to relax before a festive farewell dinner. B, L, D
DAY 11—SENDOFF
In the morning, compare stories over breakfast before departing for the airport and heading home with fond memories, new friends and a Croatian experience we'll never forget. B


Quality Accommodations
Night 2: Hotel Palace, Zagreb
Night 3: Hotel Mrijana Rastoke, Donji Nikšic
Nights 4-5: Hotel Pinija, Petrcane
Nights 6-7: Hotel Stacija, Kastela
Nights 8-10: Hotel Valamar Lacroma, Dubrovnik

Dates:
Sep 18-28, 2020
Price Per Person:
Double $4,297;
Single $4,825
Land only pricing available. Please call.
Pre-/Post-Tour Hotel: $258/night
Average Temps
Highs 75-84 / Lows 59-65
Time Zone
+7 hours ahead of Central Time
Arrival Time
Flights available 90 days prior to departure.
Departure Time
Flights available 90 days prior to departure.
Airport Info
Crown Plaza Chicago O'Hare offers complimentary shuttle service for Pre/Post Hotel accommodations.
Vehicle Parking
Free parking is offered during the tour at the Crowne Plaza Chicago O'Hare with Pre or Post tour night accommodations.
Walking Distance
Moderate to Extensive walking on uneven pavement and pathways is required to fully enjoy this tour.
Currency
Croatian Kuna
Hotel Amenities
Hair dryers, TV/cable, telephone, and Spa services available at hotels.
Additional Information
Land Tours begin one day later. Airport transfers not included with Land Only Tours. Air & Land Tours include government imposed taxes, fees and airline fuel surcharges at time of printing.
Dress on tour is casual.
Further information is mailed upon receipt of your reservation. A total of three mailings are sent to assist you in preparing for your tour…Get Ready, Get Set and Go! Our "Get Ready" packet is sent confirming your reservation. Our "Get Set" packet provides further information approximately 90 days prior to departure with important details regarding making your travel arrangements. Finally, our "Go" packet arrives 2-3 weeks before departure containing your final documents.
Updates
Updates to this document are available from our Discovery Reservations Team, and will be posted online at www.CountryTravelDiscoveries.com/CRO.
Travel Protection Available?
Yes, see CountryTravelDiscoveries.com/TravelProtectionPlan.
Terms & Conditions
Tour reservations are subject to the terms and conditions on our website at CountryTravelDiscoveries.com/terms.
Groups
Have a group? We can make your group's vacation cost-effective and easy, with discounts for groups as small as five and other benefits. Learn more at CountryTravelDiscoveries.com/groups.
Share it
---