Revel in the stunning mountain vistas and crystal-clear lakes of the Canadian Rockies as we travel through four National Parks, and several UNESCO World Heritage Sites including Alberta's Head-Smashed-In Buffalo Jump. We'll see powerful waterfalls, emerald lakes, gorgeous meadows and snow-capped peaks, and travel back in time to Gold Rush days. The scenery is magnificent on this relaxing journey along the Continental Divide as we visit Canada's Banff, Kootenay and Waterton Lakes National Parks, plus Montana's famous Glacier National Park. Don't miss it!
Marvel at Head Smashed-In Buffalo Jump (UNESCO World Heritage Site)
Famous Glacier Park Red Bus Tour
Tour great Canadian National Parks: Watertown Lakes, Kootenay, and Banff
Enjoy the Views on the Optional Banff Gondola Ride
3 nights at Banff Caribou Lodge & Spa
Columbia Ice Fields Parkway, one of North America's most scenic drives
Glacier ride on a giant Ice Explorer
Professional Canadian Tour Director
Free airport shuttle or hotel parking
Bag handling (1 per person) at hotels
Fees/tips for included attractions/meals
Welcome reception, 24-hour emergency call service, free bottled water on coach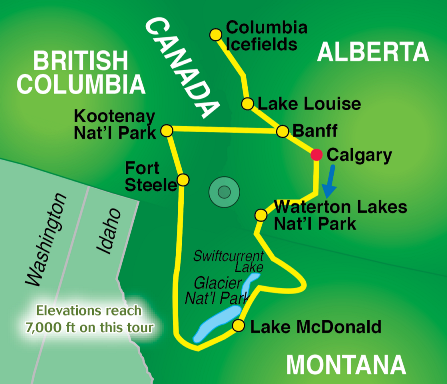 DAY 1–WELCOME TO CANADA!
Tonight meet your traveling companions at an easy-going Welcome Reception.
DAY 2–HEAD-SMASHED-IN BUFFALO JUMP/TWO NATIONAL PARKS
Start today with a guided tour of Head-Smashed-In Buffalo Jump, a UNESCO World Heritage site and remarkable archaeological record of ancient Plains cultures. Then, continue to lunch in Waterton Lakes National Park, whose rolling prairies and sandy cliff sides are home to over 250 types of birds and 1,000 plant species. Across the border, your home for the night is St. Mary Lodge & Resort. Here, the Great Plains of Montana stretch to the east and the mountains of Glacier National Park scrape the sky to the west. This setting is one of the most dramatic backdrops in all Glacier National Park. B, L
DAY 3–GLACIER NATIONAL PARK
Start today with immense views and superb photo opportunities while enjoying a boat tour on St. Mary Lake. After lunch at Rising Sun Motor Inn, you'll board a famous Red Bus, one of the park's fleet of vintage touring coaches. Built in the late 1930s, these 17-passenger buses have become a symbol of the park. After a unique "roll call", the driver rolls back the canvas top and heads for Going-to-the-Sun Road. Have your camera ready to catch the park's spectacular scenery en route to Grouse Mountain Lodge your lodging for the night. B, L
DAY 4–KOOTENAY NATIONAL PARK/BANFF
Today you'll return north to British Columbia, Canada—and back to the 1890s in the Heritage Town of Fort Steele. First established in 1864 during the Kootenay Gold Rush, it thrived throughout the late 19th-and early 20th centuries, until the BC Southern Railway bypassed the town. After lunch in this historic town, it's on to gorgeous Kootenay National Park near the Continental Divide. The park's diverse landscapes vary from snow-capped mountain peaks to warm, dry grasslands. Later, continue on to Banff, the largest town in Banff National Park and one of Canada's most popular recreation destinations. Every year, millions are drawn to its mountain scenery and glittering Lake Louise. Unpack and settle in for the next three evenings at the attractive Banff Caribou Lodge & Spa, perfectly nestled in the town of Banff. B, L
DAY 5–BANFF NATIONAL PARK/LAKE LOUISE
In Banff National Park this morning, you'll behold Lake Louise, known for its turquoise, glacier-fed lake ringed by high peaks and overlooked by a stately chateau. Return to Banff for a delicious lunch at the castle in the Rockies, Banff Springs Hotel, followed by free time in quaint downtown Banff. Or if you'd like, take our optional gondola ride. B, L
DAY 6–COLUMBIA ICEFIELDS PARKWAY/THRILLING GLACIER RIDE
Today travel along the famous Columbia Icefields Parkway, one of the most scenic highways in the world. You'll see powerful waterfalls, emerald lakes, gorgeous meadows and snowcapped peaks. Ride a specially designed "Ice Explorer" onto the huge Athabasca Glacier—it's formed from snow that fell as long as 400 years ago! You'll marvel at the incredible views of the surrounding mountains from the surface of this ancient ice. Enjoy a special farewell dinner back in Banff. B, D
DAY 7–FOND FAREWELLS, INDELIBLE MEMORIES
Return home from Calgary with majestic memories of the great Canadian Rockies. B


Quality Accommodations

Night 1: Sheraton Cavalier, Calgary
Night 2: St. Mary Lodge & Resort, Glacier National Park
Night 3: Grouse Mountain Lodge, Whitefish, MT
Night 4-6: Banff Caribou Hotel, Banff

Dates:

Aug 11-17, 2020


Price Per Person:
Double: $2,297
Single: $2,995
Pre-/Post-Tour Hotel: $128/night


DAY 5 Option - Banff Gondola
Get a bird's-eye view of the Canadian Rockies. The fully enclosed, four-passenger gondola cabin climbs 2,292 feet to the top of Sulphur Mountain. The view is absolutely breathtaking!
Price: $40 per person. 
Average Temps
During your tour, temperatures will vary depending upon location and elevation. Highs in July and August range from the Mid-70's to near 80 Degrees Fahrenheit. Lows can range from the Upper-30's to Mid-50's.
Time Zone
Mountain
Arrival Time
Schedule to arrive at our starting hotel in Calgary by 5:00 p.m. on Day 1.
Departure Time
Schedule your flight home to depart from Calgary any time after 12:30 p.m. on Day 7.

Returning to the United States: Calgary Int'l Airport allows US Residents to clear Passport Control/Customs in Canada rather than upon your first point of entry into the US. This allows for a convenient and quick entry at your returning U.S. airport, similar to arrival on a domestic flight.

Airport Info
Our starting hotel offers complimentary shuttle service to/from the Calgary International Airport.
Vehicle Parking
Our starting hotel offers complimentary parking for the duration of the tour.
Walking Distance
Moderate standing and walking is required to fully enjoy this tour. Some walking can be on uneven surfaces.
Currency
Canadian Dollar, US Dollar
Hotel Amenities
Hair dryers, iron & ironing board, TV/Cable and coffee makers at most hotels. Internet, fitness room and pool at some hotels.
Additional Information
Sunscreen, sunglasses, hats, visors, bug spray and comfortable walking shoes will add to your enjoyment of this tour.
Dress on tour is casual. Elevations reach 7,000 on this tour.
Further information is mailed upon receipt of your reservation. A total of three mailings are sent to assist you in preparing for your tour…Get Ready, Get Set and Go! Our "Get Ready" packet is sent confirming your reservation. Our "Get Set" packet provides further information approximately 90 days prior to departure with important details regarding making your travel arrangements. Finally, our "Go" packet arrives 2-3 weeks before departure containing your final documents.
Updates
Updates to this document are available from our Discovery Reservations Team, and will be posted online at www.CountryTravelDiscoveries.com/CGL
Travel Protection Available?
Yes, see CountryTravelDiscoveries.com/TravelProtectionPlan.
Terms & Conditions
Tour reservations are subject to the terms and conditions on our website at CountryTravelDiscoveries.com/terms.
Groups
Have a group? We can make your group's vacation cost-effective and easy, with discounts for groups as small as five and other benefits. Learn more at CountryTravelDiscoveries.com/groups.

Share it
---