Embark on an amazingly scenic journey from Stampede City Calgary to beautiful Banff and on to magnificent Jasper. Then board the Rocky Mountaineer Railway and travel through scenic valleys, along the mighty Fraser River, through Hell's Gate, and past the majestic Pyramid Falls. This rail route, only accessible by train, also features the majestic Mount Robson, the highest peak in the Canadian Rockies. Conclude the tour in the Vancouver, the jewel of British Columbia.
See the highlights of "stampede city" Calgary, including a ride to the top of the Calgary Tower for views across the city and distant Rocky Mountains
Tour Heritage Park Historical Village and Gasoline Alley Museum
Stroll along stunning Lake Louise and see the famous Spiral Railway Tunnels
Enjoy a scenic drive along the Icefields Parkway between Banff and Jasper
Stroll across the Athabasca Glacier and walk high above the Columbia Icefield on the glass-floored Skywalk
Sail across Maligne Lake to Spirit Island with an interpretive guide
Experience the unsurpassed beauty and grandeur of the Canadian Rockies on a two-day rail trip aboard the Rocky Mountaineer – Gold Leaf service included!
See the unique highlights of Vancouver, including the classical Dr. Sun Yat-Sen Chinese Gardens, Gastown Steam Clock, the Olympic cauldron, Stanley Park, and Granville Island Public Market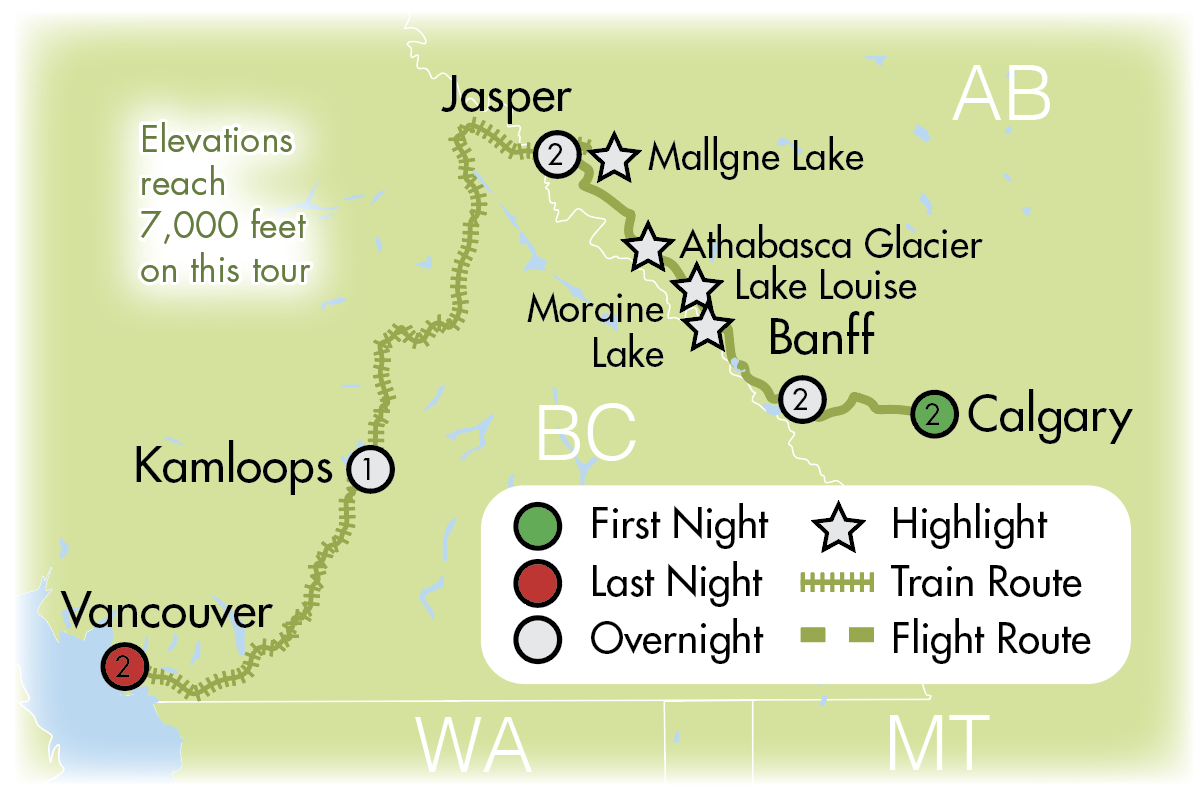 DAY 1 – Welcome to Canada
Your Canadian Rocky Mountain tour begins in Calgary – "stampede city"! Meet your Tour Director and fellow travelers for a festive Welcome Dinner at the hotel. D
Day 2 – Stampede Park/Calgary Tower/Heritage Park Historical Village and Gasoline Alley
Begin the first full day of touring with a guided overview of downtown Calgary and its multiple unique sculptures. Then, travel through Stampede Park before ascending the Calgary Tower for your first glimpses of the distant Canadian Rocky Mountains. Tour the old fashioned Heritage Park Historical Village and Gasoline Alley Museum. Continue aboard the motorcoach to Banff, with stops along the way at the Surprise Corner and Bow Falls viewpoints, providing amazing photo opportunities of this scenic land. The next two nights you will call Banff your home away from home. B, D
Day 3 – Moraine Lake/Takakkaw Falls/Lake Louise
Morning sightseeing will take you to Moraine Lake, set in the rugged Valley of Ten Peaks. This glacially fed lake is surrounded by mountains, waterfalls, and natural rock formations that make a truly magnificent natural setting. Continue to Takakkaw Falls, the second highest waterfall in all of Canada. Enjoy an included lunch at the historic Lake Louise Railway Station and then take time to stroll along the shores of the pristine body of water. On the return to Banff, see the Spiral Tunnels through which the Rocky Mountaineer train passes. This afternoon, take part in an optional tour to the Banff Gondola & Interpretive Centre, or simply enjoy wandering the quaint streets of the town before a relaxing dinner on your own. B, L
Day 4 – Icefields Parkway/Athabasca Glacier Ice Explorer/Columbia Icefield
Ice is the theme of today's touring as you travel north along the scenic Icefields Parkway from Banff to Jasper. Numerous photos stops will be made along the way as you pass Crowfoot Glacier, the Wapta Icefield, Bow Glacier, and Mount Thompson. Visit the Saskatchewan River Crossing where three rivers meet and stop at the Weeping Wall to see the impressive waterfall. Explore the Columbia Icefield Discovery Centre and ride an all-terrain Ice Explorer out onto the surface of Athabasca Glacier. Conclude touring with a walk on the glass-floored Columbia Icefield Skywalk before checking in to your Jasper hotel. Enjoy dinner together as a group tonight. B, D
Day 5 – Maligne Lake Cruise and Canyon
After breakfast, travel to the impressive Medicine Lake viewpoint to take some unforgettable photos. Then, continue to Maligne Lake where you will board a sightseeing boat for a guided cruise across the lake to Spirit Island, where you can ramble on a nature walk. Returning to the boathouse, enjoy an included lunch at The Lakehouse Café and then travel to Maligne Canyon for a leisurely hike. This afternoon, stroll through the quaint shops of downtown Jasper or travel on an optional excursion aboard the Jasper SkyTram, some 7,000 feet above the valley floor. Discover one of the charming Jasper restaurants for dinner on your own this evening. B, L
Day 6 – Rocky Mountaineer Railway to Kamloops
All aboard! Prepare to experience some of North America's most stunning scenery while indulging in luxurious Gold Leaf seats, with elegant breakfast, lunch, and wine services on the famed Rocky Mountaineer train. Journeying westward into the mighty Rockies, you will pass through a spectacular array of settings … across ranchlands, along rocky lakeshores, over high mountain passes, and through the remarkable tunnels that form part of Canada's rich rail history. Today's highlights include Mount Robson (tallest peak in the Canadian Rockies), Pyramid Falls, The North Thompson River, teal-green lakes, stunning glaciers and snow-capped peaks. Your day concludes as the Rocky Mountaineer glides along the shores of Kamloops Lake and into Kamloops for dinner and overnight at a hotel. B, L
Day 7 – Rocky Mountaineer Railway to Vancouver
Start this morning with the gracious service of a delicious breakfast aboard the Rocky Mountaineer. Passing into British Columbia's interior towards the Pacific coast, today's journey features dramatic changes in scenery, as the desert-like environment of the interior gradually gives way to lush green fields of the Fraser River Valley, and then to forests and winding river canyons surrounded by the peaks of the coast and Cascade mountains. Scenic highlights include the rushing waters of Hell's Gate in the Fraser Canyon, and the steep slopes and rock sheds along the Thompson River. At the end of the day, bid farewell to the cordial rail crew and disembark in the amazing city of Vancouver. B, L
Day 8 – Chinatown/Gastown/Stanley Park/Granville Island Public Market
This morning, bring all your senses to life in Canada's largest Chinatown, experiencing Dr. Sun Yat-Sen Classical Chinese Garden, a National Geographic World Top City Garden. In Gastown, see the Gassy Jack statue and the marvelous steam-powered clock, then experience Vancouver's Olympic legacy at the Olympic Cauldron. Wander through picturesque Stanley Park, nestled between downtown Vancouver, its harbor, and English Bay. At Granville Island's Public Market, you can choose from a variety of local food vendors for lunch. Afterward, enjoy the landscape of Queen Elizabeth Park, followed by a drive past some of Vancouver's most iconic buildings. This evening, you and your fellow travelers will feast on a Farewell to Canada dinner at a local Italian eatery in the heart of downtown. B, D
Day 9 – Farewell to the Canadian Rockies
Following one final delectable breakfast in the hotel, transfer to the Vancouver International Airport for your homeward bound flight, taking with you countless memories and many photos as souvenirs of your Canadian Rockies Rail Adventure! B
QUALITY ACCOMMODATIONS

Night 1: Sheraton Cavalier Calgary Hotel
Nights 2-3: Moose Hotel & Suites, Banff
Nights 4-5: Jasper Inn & Suites, Jasper
Night 6: Kamloops hotel assigned by Rocky Mountaineer Rail
Nights 7-8: Sheraton Wall Centre, Vancouver
Date:
Sep 24-Oct 2, 2022

Price Per Person:
Double $5,497
Single $6,385
Pre-Tour Hotel Calgary: $148/night
Post-Tour Hotel Vancouver: $318/night
Free Air To Calgary, AB:
Up to $500.00 per person when you book by April 30, 2022!

Depart/Return:
Calgary, AB/Vancouver, BC
Banff Gondola & Interpretive Center: Ride to the gondola summit overlooking Banff for unparalleled views of six mountain ranges and the sweep of Bow Valley below. The Interpretive Center provides interactive displays about Banff National Park. Price: $45
Jasper SkyTram: An experience unlike any other in Canada, the SkyTram whisks guests more than 7,000 feet above the valley floor and provides easy access to a boardwalk and hiking trails in the alpine zone of the Canadian Rockies. Immerse yourself in the unique geology, cultural heritage, and flora and fauna of the mountain landscape. Price: $45
Average Temps
Highs in the 60s / Lows in the 30s
Time Zone
Mountain Daylight Time and Pacific Daylight Time
Arrival Time
Schedule flights into Calgary to arrive on the first day by 4:00 p.m. Mountain Time
Departure Time
Schedule flights out of Vancouver to depart on the last day after 11:00 a.m. Pacific Time
Airport Info
The Sheraton Cavalier Calgary offers a complimentary shuttle from the airport to the hotel. This shuttle is available from 3:45a.m. to Midnight each day.
Walking Distance
Moderate to extensive walking is required to fully enjoy this tour. Some walking will be on uneven surfaces and possibly icy/snowy paths or sidewalks.
Currency
Canadian Dollar
Hotel Amenities
Hair dryers, TV/cable, telephone, and exercise and spa facilities available at most hotels.
Additional Information
Dress on the tour is casual. Pack plenty of clothes that can be layered because temperatures may vary from quite chilly to quite warm depending on elevation and mountain locations.
Mountain elevations to which you might ascend may exceed 7,000 feet above sea level
Additional information will be mailed to you upon receipt of your reservation. A total of three mailings are sent to assist you in preparing for your tour … "Get Ready" – "Get Set" - and "Go!" Our "Get Ready" packet is sent confirming your reservation. Our "Get Set" packet provides further information approximately 90 days prior to departure with important details regarding making your travel arrangements. Finally, our "Go!" packet arrives two to three weeks before departure and contains your final travel documents.
Updates
Updates to this document are available from our Discovery Reservations Team, and will be posted online at www.CountryTravelDiscoveries.com/CRR
Travel Protection Available?
Yes, see CountryTravelDiscoveries.com/TravelProtectionPlan.
Terms & Conditions
Tour reservations are subject to the terms and conditions on our website at CountryTravelDiscoveries.com/terms.
Groups
Have a group? We can make your group's vacation cost-effective and easy, with discounts for groups as small as five and other benefits. Learn more at CountryTravelDiscoveries.com/groups.
Share it
---