From Shenandoah National Park to the Great Smoky Mountains and Jefferson's Monticello to Vanderbilt's Biltmore Estate, this Appalachian adventure will introduce you to the amazing natural and historical wonders of this lush mountain region at the height of fall foliage.

Experience Great Smoky Mountain and Shenandoah National Parks during fall foliage
See the unique and stately Biltmore Estate
Ride the rails along the beautiful Nantahala River
Tour Thomas Jefferson's Monticello
Walk through Luray Caverns, a US National Landmark
Visit Woodrow Wilson Presidential Library & Museum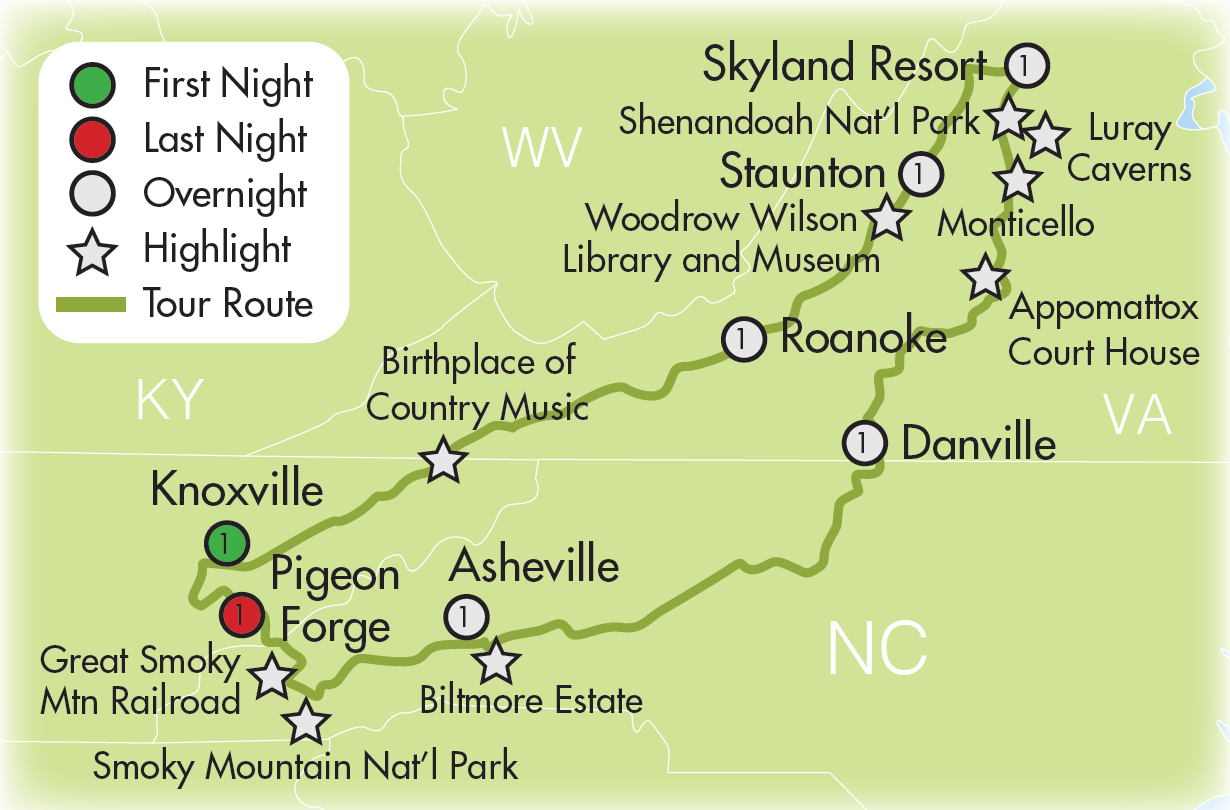 DAY 1—WELCOME TO KNOXVILLE!
This Blue Ridge Country adventure begins by getting to know your tour companions during a welcome dinner at our hotel in Knoxville, home to the University of Tennessee. D
DAY 2—BUC-EE'S/BIRTHPLACE OF COUNTRY MUSIC/DAMASCUS
"Go big or go home" best describes Buc-ee's convenience stores. We'll stop at this iconic shop and meet co-owners Arch ("Beaver") Aplin and Don Wasek who set out to make their travel stops the best in the world. See their largest store to date! Continue across the border into Virginia for the Birthplace of Country Music Museum and explore the history of recordings by the Carter Family, Jimmie Rodgers, and Ernest Stoneman at this Smithsonian affiliate. We then travel to Damascus, a popular stop on the Appalachian Trail for thru-hikers. See the Trail Center and have a delicious lunch at the Old Mill Inn as you hear tales and adventures from hikers who've done the trail. B, L
DAY 3—NATURAL BRIDGE/WOODROW WILSON PRESIDENTIAL LIBRARY
We depart this morning for a stop at Natural Bridge State Park, where a short stroll brings you to a 215-foot-high natural arch with a span of 90 feet. Don't forget your camera for some beautiful photos! Then we're off to Staunton, named one of the top 10 mountain towns by Southern Living. Visit the Woodrow Wilson Presidential Library and Museum to experience the history of the 28th President's tumultuous term that included the Spanish Flu pandemic and the first World War. Afterwards, enjoy time to explore all this great little town has to offer. B, L
DAY 4—TIFFANY GLASS/VIRGINIA QUILT MUSEUM/LURAY CAVERNS/SKYLAND RESORT
We'll tour the sanctuary of Trinity Episcopal Church, Staunton's oldest church, which features more than a dozen Tiffany stained-glass windows and a Taylor & Boody pipe organ. We travel to Harrisonburg for a visit to the Virginia Quilt Museum, the state's official quilt museum. Here you'll see heirloom, contemporary, and art quilts as well as learn the painstaking process for preservation of historical quilts. Then it's off to Luray Caverns, the largest cavern in the eastern US! We'll explore this magnificent wonder and hear the Great Stalacpipe Organ, which is the world's largest musical instrument. Afterwards, ride "up" mountain for beautiful views of the valley below as we continue to Shenandoah National Park for our overnight at the historic Skyland Resort. B, L, D
DAY 5—SKYLINE DRIVE/JEFFERSON'S MONTICELLO/APPOMATTOX COURT HOUSE
This morning we drive portions of one of America's most scenic routes in the US, Skyline Drive. We'll make a few stops along the way for photos and a visit to Big Meadows Visitors Center before we make our way to Monticello, home of Thomas Jefferson—author of the Declaration of Independence. Monticello was also a working plantation and we'll learn about the people, enslaved and free, who lived and worked on the mountaintop. This afternoon, enjoy a true southern lunch at Michie Tavern. Delight in fried chicken, hickory-smoked pork barbecue, stewed tomatoes, black-eyed peas, buttermilk biscuits and so much more. Yum! Then we'll visit Appomattox Court House to learn more about Robert E. Lee's surrender to Ulysses S. Grant which took place on April 9, 1865. We overnight in Danville this evening. B, L
DAY 6—HICKORY/BILTMORE ESTATE
After breakfast, travel to North Carolina and spend the afternoon at George and Edith Vanderbilt's extraordinary Biltmore Estate. Take a self-guided visit inside the luxurious family home, as magnificent today as it was more than a century ago. You'll see displays of vintage clothing, accessories, art, furniture, and more that illustrate the lives of the Vanderbilt family. We'll also have the opportunity to stroll their famous gardens designed by America's foremost landscape architect, Frederick Law Olmsted. From the beauty of the Italian Garden to the breathtaking trees in America's first managed forest, Biltmore's lush landscape is a living tribute to Olmsted's genius. Afterwards, we'll have a tasty lunch at the Stable Café located on the grounds of the estate before free time to stroll through Biltmore's charming Antler Hill Village and Winery. B, L
DAY 7—GREAT SMOKY MOUNTAIN RAILROAD/GREAT SMOKY MOUNTAIN NATIONAL PARK
We continue our tour through the western North Carolina mountains to Bryson City, where it's "all aboard" our thrilling rail excursion along the beautiful Nantahala River. We'll learn how the Western North Carolina Railroad opened up the "outside" world to thousands of hill people. Then, relish a breathtaking ride through Great Smoky Mountain National Park, named for the bluish mist that clings to the mountainsides. We overnight in Pigeon Forge, TN. B, L
DAY 8—RED SKELTON SHOW/FAREWELL
This morning, re-live the great memories of the "Golden Age of Television" at the Red Skelton Tribute Show before we head home, filled with appreciation for the beauty, diversity, and lively folks of Blue Ridge Country. B


Quality Accommodations
Night 1: Hilton, Knoxville Airport
Night 2: Country Inn & Suites, Roanoke, VA
Night 3: Hotel 24, Staunton, VA
Night 4: Skyland Resort, Shenandoah National Park
Night 5: Comfort Inn, Danville, VA
Night 6: Best Western Plus River Escape Inn & Suites, Dillsboro, NC
Night 7: Inn on the River, Pigeon Forge, TN
Dates:
Oct 6-13, 2023
Oct 7-14, 2023
Price Per Person:
Double $2,397
Single $3,175

Pre Tour Hotel:
$198/night
Depart/Return:
Knoxville, TN
Inclusions:
Free airport shuttle or hotel parking
Welcome Dinner and meals as indicated (B=breakfast, L=lunch, D=dinner)
Fees and tips for included attractions and meals
Luggage handling of one suitcase per person at hotels
Free bottled water on coach
24-hour emergency call service
Arrival Time
Our Welcome Dinner on Day 1 is at our hotel, Hilton Knoxville Airport, starting at 6:30 pm. We recommend scheduling your flight to arrive by 4:00 pm.
Departure Time
Schedule your flight home to depart McGhee Tyson Airport any time after 2:45 pm on Day 8.
Airport Transportation / Vehicle Parking
Our starting hotel offers a complimentary shuttle service to/from the McGhee Tyson Airport. They are also attached to the Airport via covered walkway. If you are driving to the starting location, they also offer complimentary parking for the duration of the tour.
Walking Distance
Moderate walking is required to fully enjoy this tour. Some walking will also be on uneven paths. While walking canes are allowed, we are unable to accommodate travelers using other mobility devices, including walkers and wheelchairs.
Average Temps
October – high of 70°, low of 49°

Time Zone
Eastern
Hotel Amenities
Each hotel has a hair dryer, iron, ironing boards, and a coffee maker. Hilton Knoxville Airport has free wi-fi, an indoor pool, fitness center and an on-site restaurant. Hotel 25 South in Staunton has free wi-fi, an indoor pool, fitness center and an on-site Lounge. The Skyland Lodge does not have elevators, and cell phone service will depend on your carrier. Hampton Inn & Suites Asheville has free wi-fi, an indoor pool and a fitness center. The Inn on the River in Pigeon Forge has free wi-fi, indoor & outdoor pools, hot tub, on-site laundry and is located on the West Prong of the Little Pigeon River.
Additional Information
A total of three mailings are sent to assist you in preparing for your tour, including information sent upon receipt of your reservation.
Dress on tour is casual.
Travel Protection Available?
Yes, see CountryTravelDiscoveries.com/TravelProtectionPlan.
Share it
---