Our Empire State adventure has it all—beautiful mountain peaks and gorgeous river valleys…grand mansions and charming small towns. Feel the excitement of New York City from seeing a Broadway show, walking through time square to taking the ferry out to see the Statue of Liberty. Travel off the beaten path to meet friendly friendly faces, famous places, learn the fascinating history, take in the gorgeous fall color and more, join us this autumn for the "Best of New York State!"

Delectable lunch and tour at the Culinary Institute
Amazing views at Top of the Rock Observation Deck
2 night stay in New York City
Optional Broadway show and dinner
Tour of New York City from a local guide
Get an up close view of the Statue of Liberty and Liberty Park
Train ride on the Rip Van Winkle Flyer
Experience the Cooperstown Baseball Hall of Fame
Enjoy a cruise and lunch along the Adirondack Mountains and colorful leaves
Meet retired thoroughbred horses at the Old Friends at Cabin Creek Horse Retirement farm
Free Airport shuttle or hotel parking
Bag handling (1 per person) at hotels
Fees/tips for included attractions and meals
Welcome reception, 24-hour emergency call service, free bottled water on coach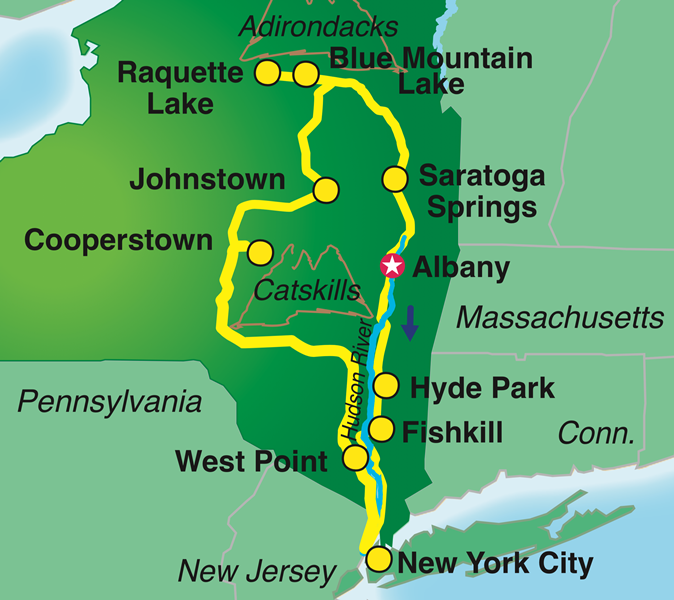 DAY 1–ALBANY
Located on the edge of the Catskill Mountains, Albany is the perfect place to begin your New York adventure. This evening our group will get to know each other at a relaxed welcome reception.
DAY 2–HYDE PARK/FISHKILL
You'll begin your day with a scenic drive south through countryside alive with glorious fall color. Our destination is Hyde Park, home to the prestigious Culinary Institute of America. With its mission of providing quality culinary education for careers in food service, the CIA will treat us to an unparalleled dining experience at one of the school's student-staffed restaurants. At our next stop, you will spend time where former President Franklin D. Roosevelt, one of the 20th century's most influential men, grew up and spent much of his adulthood. We'll also remember the struggles and triumphs of America in the '30s and '40s at the Roosevelt Presidential Library. Great views await on a pedestrian bridge 292 feet above the Hudson River, en route to Fishkill, our home for the night. B, L
DAY 3–WEST POINT/NEW YORK CITY
This morning we'll stop at the U.S. Military Academy at West Point, where you'll tour the grounds and discover some of the school's little-known traditions. You're sure to love the academy's wonderful view of the Hudson River and the Catskill Mountains. Next stop—New York City! You'll start your visit to the city at New York's trendiest observation deck—Top of the Rock. Enjoy free time in Rockefeller Center, then take in all Times Square has to offer by joining us on tonight's option for an evening "on the town," or head to our hotel in Midtown New York City. Unpack and relax, we'll be here for the next two nights. B
DAY 4–NEW YORK CITY
Whether it's uptown, midtown or downtown, there's more to see in New York City. Our expert guide will show us the sights from Fifth Avenue to St. Patrick's Cathedral, the Lincoln Center to serene Central Park. You'll tour many of New York City's unique neighborhoods on our way to Wall Street and World Trade Center Memorial. Then board a cruise at Battery Park. Have your cameras ready for an exceptional photo opportunity as you glide past Liberty Island, then disembark at Ellis Island, the immigration station that greeted some 12 million immigrants seeking the American dream for themselves and their descendants. B, L
DAY 5–COOPERSTOWN/JOHNSTOWN
Today we'll head deep into the heart of New York's Catskill country, passing through colorful forests, beautiful waterfalls and lakes. Take a train ride through the mountainside and have lunch aboard the Rip Van Winkle Flyer. Then we'll head for Cooperstown and the Baseball Hall of Fame. You'll revel in nostalgia as you discover baseball's unique history. Our home tonight is in the town of Johnstown. B, L
DAY 6–ADIRONDACKS/LAKE GEORGE
This morning we'll set out to the Adirondack Mountains. At Raquette Lake, we'll board the WW Durant for a relaxing cruise on pristine waters. See endless colorful trees lining the shore while you enjoy a tasty luncheon aboard the boat. Next, we'll stop at the Adirondack Museum in Blue Mountain Lake. Here, you'll discover the history of the Adirondacks, plus learn about the region's "camp-style" architecture. B, L
DAY 7–SARATOGA SPRINGS/ALBANY
After a morning visit to Old Friends at Cabin Creek, a retired thoroughbred farm, you'll enjoy the day exploring the Victorian town of Saratoga Springs. Home of the oldest thoroughbred race track in America, the city attracted the wealthy and is flavored today with traditions of the past that enrich its character. After a farewell lunch we'll head back to Albany, where we'll say "so long" and head for home. B, L

Dates:
Sep 13-19, 2020
Oct 4-10, 2020
Price Per Person:
Double $1,997
Single $2,635
Pre-/Post-Tour Hotel: $148/night
Option-Dinner and a Broadway Show Tonight enjoy an optional Dinner and a Show. After we savor a meal at an amazing restaurant located in New York City's Theater District with your fellow travelers, we head over to see a memorable Show on Broadway. Home to some of the best theaters in the world, we will enjoy comfortable reserved seating with excellent views of the show. This will be a night to remember! More details about the show itself will be released a few months before your departure - call us for details.
Price: $175 per person
Average Temps
high in the upper 60s to low 70s during the daytime, lows in the high 40s to low 50s in the evenings.
Time Zone
Eastern Time
Arrival Time
Schedule your flight to arrive in Albany by 5:00 p.m. on Day 1.
Departure Time
Schedule your flights home anytime after 5:00 p.m. on Day 7.
Airport Info
Fly into the Albany International Airport (ALB). Complimentary hotel shuttle is available.
Vehicle Parking
Free parking is offered during the tour at the Marriott Albany.
Walking Distance
Moderate to moderately extensive walking is required to fully enjoy this tour. Some walking can be on uneven surfaces.
Currency
US Dollar
Hotel Amenities
Hair dryers, irons, ironing boards throughout tour. Exercise room and swimming pool available at most hotels.
Additional Information
Further information is mailed upon receipt of your reservation. A total of three mailings are sent to assist you in preparing for your tour…Get Ready, Get Set and Go! Our "Get Ready" packet is sent confirming your reservation. Our "Get Set" packet provides further details approximately 90 days prior to departure with important details regarding making your travel arrangements. Finally, our "Go" packet arrives 2-3 weeks before departure containing all your final documents.
Updates
Updates to this document are available from our Discovery Reservations Team, and will be posted online at CountryTravelDiscoveries.com/BNY.
Travel Protection Available?
Yes, see CountryTravelDiscoveries.com/TravelProtectionPlan.
Terms & Conditions
Tour reservations are subject to the terms and conditions on our website at CountryTravelDiscoveries.com/terms.
Groups
Have a group? We can make your group's vacation cost-effective and easy, with discounts for groups as small as five and other benefits. Learn more at CountryTravelDiscoveries.com/groups.
Share it
---