Experience both bucket-list highlights and hidden gems of "the Last Frontier" by rail, sail and coach on this discovery of Alaska's natural splendor, summer bounty and frontier history. Range across colorful tundras, cruise pristine waterways, travel amid magnificent glaciers and mountain peaks...and encounter unbelievable wildlife. Watch for whales and sea lions or even a tidewater glacier calving on a cruise around Kenai Fjords National Park. Overnight right inside famed Denali National Park before riding an old-fashioned narrow-gauge train from Canada's Yukon to historic Skagway. En route, meet mushers and fishermen, discover native cultures, and marvel at agriculture in the "Land of the Midnight Sun". Unpack for a 4-night cruise aboard Holland America's gorgeous MS Volendam, sailing to the ice-studded fjords of Glacier Bay, the scenic port of Ketchikan, and through the Inside Passage. 
Enjoy an amazing a 2-night stay in vast Denali National Park, home to North America's highest mountain peak
Spend 2 nights in Anchorage, AK's largest city
Meet Iditarod Champion Martin Buser
Follow the Gold Rush trail on the White Pass & Yukon R.R.
See amazing wildlife, sea life, glaciers & native cultures
Cruise on Resurrection Bay, watching for sealife sailing through Kenai Fjords National Park
Sail Holland America's MS Volendam from the Gold Rush town of Skagway to Glacier Bay N.P., Ketchikan and the Inside Passage
Enjoy MS Volendam's onboard activities, from cooking demonstrations and naturalist talks to Broadway reviews and fitness facilities
Cruise Chena River aboard an authentic sternwheeler riverboat
Experience up to 22 hours of summer daylight in Fairbanks (dependent on date selected)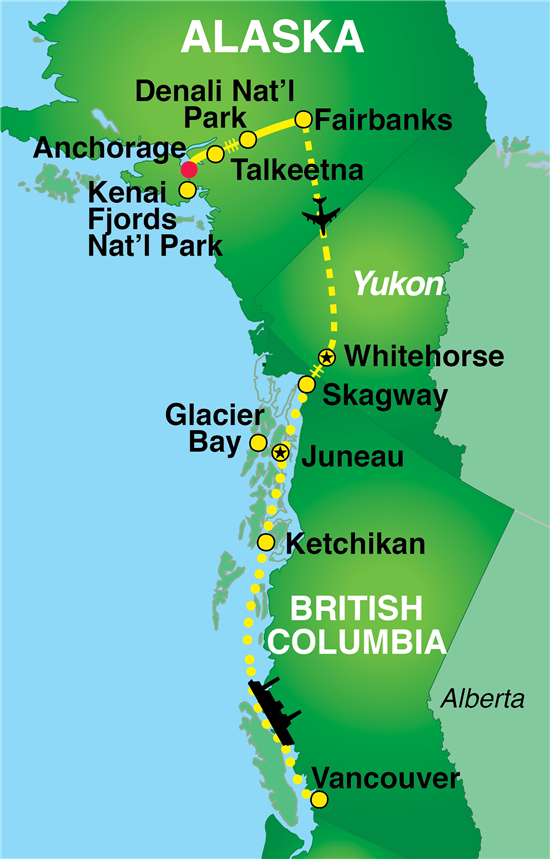 DAY 1—ANCHORAGE WELCOME

Welcome to the land of the midnight sun! After your complimentary transfer to our hotel, meet your fellow travelers at a friendly welcome reception this evening in Alaska's largest city, Anchorage.
DAY 2—KENAI FJORDS NATIONAL PARK
Travel south along Turnagain Arm and the Chugach Mountain range on your way to the Alaska Wildlife Conservation Center. Learn how this facility takes in orphaned and injured animals. Next, on a thrilling cruise of the protected Resurrection Bay, experience up-close encounters with bird rookeries and sea lion colonies, view passing whales and otters...you may even catch a tidewater glacier calving! Afterward, relax aboard the Alaska Railroad back to Anchorage. B, L
DAY 3—HAPPY TRAILS KENNELS/TALKEETNA
An Alaska visit would be incomplete without seeing sled dogs in action! Meet the champion dogs at Happy Trails Kennels, where veteran racer Martin Buser will share stories of races and trails, and give a dog sled demonstration. Later, continue towards the historic village of Talkeetna, nestled at the base of North America's tallest peak, Denali. Settle in for the evening, overlooking the majestic Alaska Range. B, L
DAY 4—BIRCH SYRUP/MCKINLEY EXPLORER/DENALI
Today, visit Birch Syrup for a fun and educational tour illustrating the joys and difficulties of Alaska's short and intense harvest. Enjoy sweet samples along with other local food products. Then, climb aboard the luxurious domed rail cars of the McKinley Explorer as we head to Denali for a two-night stay at this magnificent national treasure. See the wide open tundra and watch out for wildlife such as eagles and bears. The remainder of the day is yours to relax or choose an optional excursion, such as a nature walk, rafting trip down the Nenana River, a flight-seeing tour over Denali, or a Ranger talk. B, L
DAY 5—DENALI NATIONAL PARK
You'll be snapping plenty of photos during a spectacular seven-hour guided tour of Denali National Park, home of majestic Denali (formerly Mt. McKinley), lush forests and crystal-clear waters. Be on the lookout for wildlife, such as "The Big 5" mammals: moose, caribou, Dall sheep, wolf, and grizzlies. B, L
DAY 6—RIVERBOAT DISCOVERY/ALASKA PIPELINE/SALMON BAKE & SALOON SHOW
Today, coach to Fairbanks for a ride along the Chena River on The Riverboat Discovery, an authentic sternwheeler. Then get up close to the famous Alaska pipeline. Tonight you're in for a treat at Pioneer Park. Enjoy an all you care to eat buffet of Wood Grilled Salmon, Beer Battered Cod, and Slow Roasted Prime Rib plus all the fixings, then sit back and enjoy songs and stories, and historical highlights of Fairbanks, also known as "The Golden Heart City". B, L, D
DAY 7—MUSEUM OF THE NORTH/WHITEHORSE
This morning, visit the Museum of the North, highlighting the art and culture of Alaska. This afternoon, fly from Fairbanks into Canada's majestic Yukon Territory. Our home this evening is Whitehorse, the capital of the Yukon. B
DAY 8—WHITE PASS & YUKON RAILROAD
Today we travel on the captivating White Pass Trail aboard an old-fashioned narrow-gauge train. You'll see some spectacular scenery along the winding route once used by gold seekers as we head to Skagway, the jumping off point for the Klondike. Later, we'll visit Jewell Gardens, located on the Historic Clark Farm site. Savor an abundance of herbs and vegetables displayed among brilliantly colored flowers–varieties that thrive on the long daylight hours. This evening, enjoy the bounty of the garden during a scrumptious dinner. B, D
DAY 9—SKAGWAY/MS VOLENDAM
Stroll the wooden sidewalks of this famous Gold Rush town, do some last minute souvenir shopping, or take in a Ranger-led walking tour before embarking on our home away from home the next four nights, the MS Volendam. Get acquainted with the ship's amazing amenities before dinner; and don't miss the evening entertainment, which includes everything from Broadway reviews to stand-up comedians. B, D
DAY 10—GLACIER BAY NATIONAL PARK
Cruise the ice-studded fjords of this national treasure for a full eight hours as a Park Service Ranger narrates on board the ship. B, L, D
DAY 11—KETCHIKAN
Explore this uniquely Alaskan port, famous for its rich native culture, salmon fishing, and scenic Misty Fjords. B, L, D
DAY 12—INSIDE PASSAGE AND SHIPBOARD FUN
Today, glide through Alaska's spectacular Inside Passage, one of the most scenic sea-lanes in the world. You'll see steep mountain walls on both sides of the ship, brilliantly colored forests, blue glaciers and seaside villages dotting the coastline. Take a break from the beautiful sights and partake in one of the ship's many activities such as bingo, cooking demonstrations and naturalist talks. B, L, D
DAY 13—VANCOUVER/HOME
Alas, we must say farewell as we disembark in Vancouver, British Columbia, and head for home—carrying enough "midnight sun" memories to last a lifetime! B
July 6-18, 2018 | July 13-25, 2018

Aug 3-15, 2018 | Aug 17-29, 2018
SPACE ON REQUEST

Depart/Return
Anchorage, AK/Vancouver, BC
Price Per Person
Double From: $3,797; Single From: $6,455*
(*Prices vary based upon date and stateroom category – Inside, Outside or Verandah – selected for cruise portion of this vacation package.)


Cabin
Inside
Outside
Verandah
Occupancy
Double   
Single   
Double   
Single   
Double   
Single   
July 6, July 18, Aug 3   

$3,897
$6,585     

$4,097
$6,945     

$4,647
$7,995     


Tour Taxes
Double: $246; Single: $301
Pre/Post-Tour Hotel
$318 night-Anchorage/$418 night-Vancouver
See More Ashore
Throughout your trip, you may choose among a variety of optional shore excursions. These range from simple park ranger talks to nature walks to river rafting trips, a trip to Misty Fjords or a "flight-seeing tour" of Denali.
These options are offered directly with Holland America, and may be booked online at www.hollandamerica.com or by calling the Shore Excursion Desk at 888-425-9376. A booking number provided on your invoice by Country Travel DISCOVERIES is required to reserve excursions.
Average Temp
high 67°/low 49° (August)
high 70°/low 52° (July)
Time Zone
Alaska (-3 hours from Central Time); Vancouver (-2 hours from Central Time)

Arrival Time
Schedule to arrive at our starting hotel by 5:00 p.m. on Day 1.
Departure Time
Schedule flight home to depart after 11:30 a.m. on Day 13.
Airport Info
Hotels offers complimentary airport shuttle service.
Vehicle Parking 
N/A
Walking Distance 
 Moderate walking is required to enjoy this tour to its fullest.
Currency
US and Canadian Dollar
Hotel Amenities
Hair dryer, iron, ironing board at most hotels. Guest laundry on board the ms Volendam. Exercise room & swimming pool on board the ms Volendam and at Hotel Captain Cook in Anchorage.
Additional Information
"Country Club" casual attire (excluding jeans and shorts) is recommended for dinners on your cruise. However, the last night is the Captain's Farewell Dinner and it is required that men wear a jacket and tie and ladies should bring along a nice dress, skirt & blouse or a nice pants suit. If you do not feel comfortable dressing for dinner in the formal dining room, there are alternate casual dining choices while on board. You may eat in the Lido Restaurant or choose room service, both are complimentary. A valid US Passport is required for travel to/from the United States.

Further information is mailed upon receipt of your reservation. A total of three mailings are sent to assist you in preparing for your tour…Get Ready, Get Set and Go! Our "Get Ready" packet is sent confirming your reservation. Our "Get Set" packet provides further details approximately 90 days prior to departure with important details regarding making your travel arrangements. Finally, our "Go" packet arrives 2-3 weeks before departure containing all your final documents.
Updates
Updates to this document are available from our Discovery Reservations Team, and will be posted online at www.CountryTravelDiscoveries.com/ALK.
Travel Protection Available?
Yes, see CountryTravelDiscoveries.com/travelprotectionplan.
Terms & Conditions
Tour reservations are subject to the terms and conditions on our website at CountryTravelDiscoveries.com/terms.
Groups
Have a group? We can make your group's vacation cost-effective and easy, with discounts for groups as small as five and other benefits. Learn more at CountryTravelDiscoveries.com/groups.
Share it
---