We'll start this historic journey exploring America's famous landmarks in old Boston. Then navigating the scenic north shore, we'll stop for a traditional lobster bake in the salty mariners' town of Gloucester. We hug the rocky Atlantic coast towards Maine and soon head inland for a scenic back roads journey that maximizes fall's colors! Have your cameras at the ready for our passage through the mountains of New Hampshire, and thrill as we cross the 2,860-foot Kancamagus Pass. Walk along the Flume Gorge on wooden walkways, past waterfalls and soaring rock walls. We'll be transported back to the 18th century at the quaint Old Sturbridge Village, dine at the Salem Cross Inn, and stand in the footsteps of the famed Minutemen of Lexington and Concord.
Visit four states during expected peak fall foliage dates
Meet a lobsterman and enjoy an authentic lobster bake
Savor a gourmet luncheon at the grand Mt. Washington Hotel
Learn about syrup production from farmer Burr Morse and watch cider being pressed at a Vermont mill
See living history at Old Sturbridge Village
Visit Rock of Ages, America's largest granite quarry
Bag handling (1 per person) at hotels
Fees/tips for included attractions/meals
Welcome reception, 24-hour emergency call service, free bottled water on coach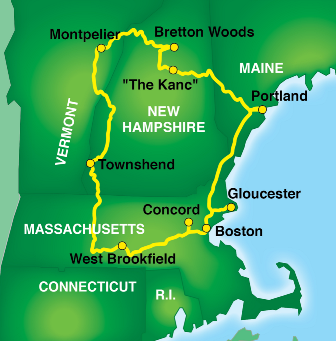 DAY 1–OUR AUTUMN ADVENTURE AWAITS
Begin our exciting autumn adventure in Boston, MA with a welcome reception.

DAY 2–BOSTON CITY TOUR/ALL ABOUT "LOBSTAH"/PORTLAND
From the Old North Church, Quincy Market, and Faneuil Hall to Paul Revere's house, Bunker Hill and the site of the Boston Tea Party, we'll experience more legendary American sites you've always wanted to visit. For lunch we head to Gloucester to meet a working lobsterman and savor an authentic, mouthwatering lobster bake. Keep your bib on–it's messy but delicious! Revel in the fall colors up the coast into Maine for our enchanting overnight near the sea in Portland (Trip Advisor Top U.S. Places). B, L

DAY 3–SCENIC WHITE MOUNTAINS/"THE KANC"/LINCOLN
This morning, delight in the breathtaking views of the Portland Head Light. Afterwards, we experience the seasonal beauty that abounds in New Hampshire! We head to North Conway to explore the city and allow time for lunch on your own in this picturesque town. Then, get your camera ready for a close-up view of New Hampshire's White Mountains on the Kancamagus Highway, renowned among New Englanders as one of the region's most pristine scenic drives. We've plotted several stops to witness the splendor of fall as we cross the 2,860-foot Kancamagus Pass, aka "The Kanc", before traveling into a stunning, deep valley. Lush trees loaded with color create a panorama beyond compare. B, D

DAY 4–FRANCONIA NOTCH/MT. WASHINGTON VALLEY
Today we experience one of New Hampshire's most scenic mountain passes–Franconia Notch–with its slopes and valleys draped in autumn's colors. Marvel as we walk along the Flume Gorge on wooden walkways, past waterfalls and 90-foot-high rock walls. Next, explore the grand Mt. Washington Hotel on a guided tour. Afterwards an aerial tram whisks you to the top of the mountain, for a delicious lunch while taking in the spectacular views of the valley below. Later, we cross the border into Vermont. B, L, D
DAY 5–HARVEST CIDER/TRADITIONAL MAPLE SYRUP/ROCK OF AGES
Today begins with a "sweet" visit to Cold Hollow Cider Mill, where apple cider is still made with a 1920s rack and cloth press. Sip fresh cider–and sample legendary Cider Donuts! Maple syrup is "on tap" at the Morse Farm, where we'll learn about their 200-year-old maple sugar tradition. Enjoy the hospitality of this friendly family and lick your lips over a maple-flavored treat they've prepared for us. After a delectable lunch, visit the world's largest granite quarry, Rock of Ages, at an amazing 600-feet-deep. You'll see the mining operation and hear some fascinating details from your guide. Tonight, we relax at Lake Morey Resort. B, L

DAY 6–KING ARTHUR FLOUR/FRIESIANS OF MAJESTY
Start the day with the smell of fresh-baked bread at King Arthur Flour's flagship store in Norwich, VT. We'll have time to pick up baking essentials and savor a sweet treat in their café. Next, visit with breeder/owner Robert Labrie at Friesians of Majesty Farm. As we become versed on the breed, we'll also tour the facility's European-style barns. To top it all off, Robert's mares and stallion Mathijs will provide a captivating dressage and driving show. B, L, D
DAY 7–OLD STURBRIDGE/"SHOT HEARD 'ROUND THE WORLD"
Today at Old Sturbridge Village, we walk through original 18th and 19th century homes, craft shops, meeting houses and a mill, all preserved to recreate an authentic 1830s town. Lunch is a special meal with fascinating history at Salem Cross Inn. Furnished throughout with American antiques and huge hearths, the inn alone is worth the visit–but you'll find the food outstanding, too! This afternoon, stand where the famed Minutemen stood at Lexington and Concord. The birthplace of liberty will inspire awe as we relive the beginning of the American Revolution. Tonight, partake in a wonderful farewell dinner back in Boston. B, L, D
DAY 8-FAREWELL
After breakfast we head home with New England color dancing in our heads! B

QUALITY ACCOMMODATIONS

Night 1: Hampton Inn Boston Logan Airport, Revere, MA
Night 2: Best Western Merry Manor Inn, Portland, ME
Night 3: Indianhead Resort or Mountain Club on Loon, Lincoln, NH
Night 4: Best Western, Waterbury, VT
Night 5: Lake Morey Resort, Fairlee, VT
Night 6: Fairfield Inn & Suites, Holyoke, MA
Night 7: Hampton Inn Boston Logan Airport, Revere, MA
Dates:
Sept 30-Oct 7, 2021 Limited Availability
Oct 1-8, 2021 Limited Space Availability
Oct 2-9, 2021
Oct 9-16, 2021 Sold Out

Price Per Person:
Double $2,097
Single $2,675
Pre-/Post-Tour Hotel: $198/night

Depart/Return:
Boston, MA
Average Temps
High's in the low 70's; low's in the mid-50's in late September. High's in the mid 60's; low's in the mid-50's in October. Please note that cooler weather can prevail at higher elevations (such as at Mount Washington).
Time Zone
Eastern Time
Arrival Time
Schedule flights into Boston by 4:00 p.m. on Day 1.
Departure Time
Schedule flights home any time after breakfast on Day 8. A breakfast voucher will be given to each person to use at their leisure. Breakfast is served from 6:00 a.m.-10:00 a.m. Plan your return flight home that best fits your schedule.
Airport Info
Our starting hotel offers complimentary shuttle service to/from the Boston Logan International Airport.
Vehicle Parking
Our starting hotel offers complimentary parking for the duration of the tour.
Walking Distance
Moderate walking at a leisurely pace is required to fully enjoy this tour. Some walking will be on uneven paths.
Currency
US Dollar
Hotel Amenities
Hair dryers, TV/cable, telephone, etc. are available at most hotels.
Additional Information
Dress on tour is casual.
Further information is mailed upon receipt of your reservation. A total of three mailings are sent to assist you in preparing for your tour…Get Ready, Get Set and Go! Our "Get Ready" packet is sent confirming your reservation. Our "Get Set" packet provides further information approximately 90 days prior to departure with important details regarding making your travel arrangements. Finally, our "Go" packet arrives 2-3 weeks before departure containing your final documents.
Updates
Updates to this document are available from our Discovery Reservations Team, and will be posted online at www.CountryTravelDiscoveries.com/ANE.
Travel Protection Available?
Yes, see CountryTravelDiscoveries.com/TravelProtectionPlan.
Terms & Conditions
Tour reservations are subject to the terms and conditions on our website at CountryTravelDiscoveries.com/terms.
Groups
Have a group? We can make your group's vacation cost-effective and easy, with discounts for groups as small as five and other benefits. Learn more at CountryTravelDiscoveries.com/groups.
Share it
---