Join us on a magnificent tour through western Austria at a very special time of the year – autumn. Golden trees will accompany us while touring through Tyrol and Salzburg. The Sound of Music, the spectacular Austrian Alps and lakes, local farm visits and more set the stage for the Kermis Festival. Here the cows ceremonially and literally come home from the high pastures to a glorious village welcome.
• Spectacular glacial cable car ride up to the Kitzbühler Alps
• Memorable Austrian home and farm visits
• Salzburg—city of the Sound of Music and the Von Trapp Family
• Innsbruck—scenically nestled at the foot of the Northern Chain Mountain
• Ride the Weiderbergerhornbahn cable car up Gratlspitz Mountain
• Experience "Tyrolean Show" with traditional music and dance
• View the festive cattle parade as they return back to their farmhouses from the high pastures
• Attend the traditional Kramsach Festival, one of Austria's most famous
• Bag handling (1 per person) at hotels
• Entrance fees for included attractions and gratuities for included meals
• Welcome dinner, 24-hour emergency call service, round-trip air from U.S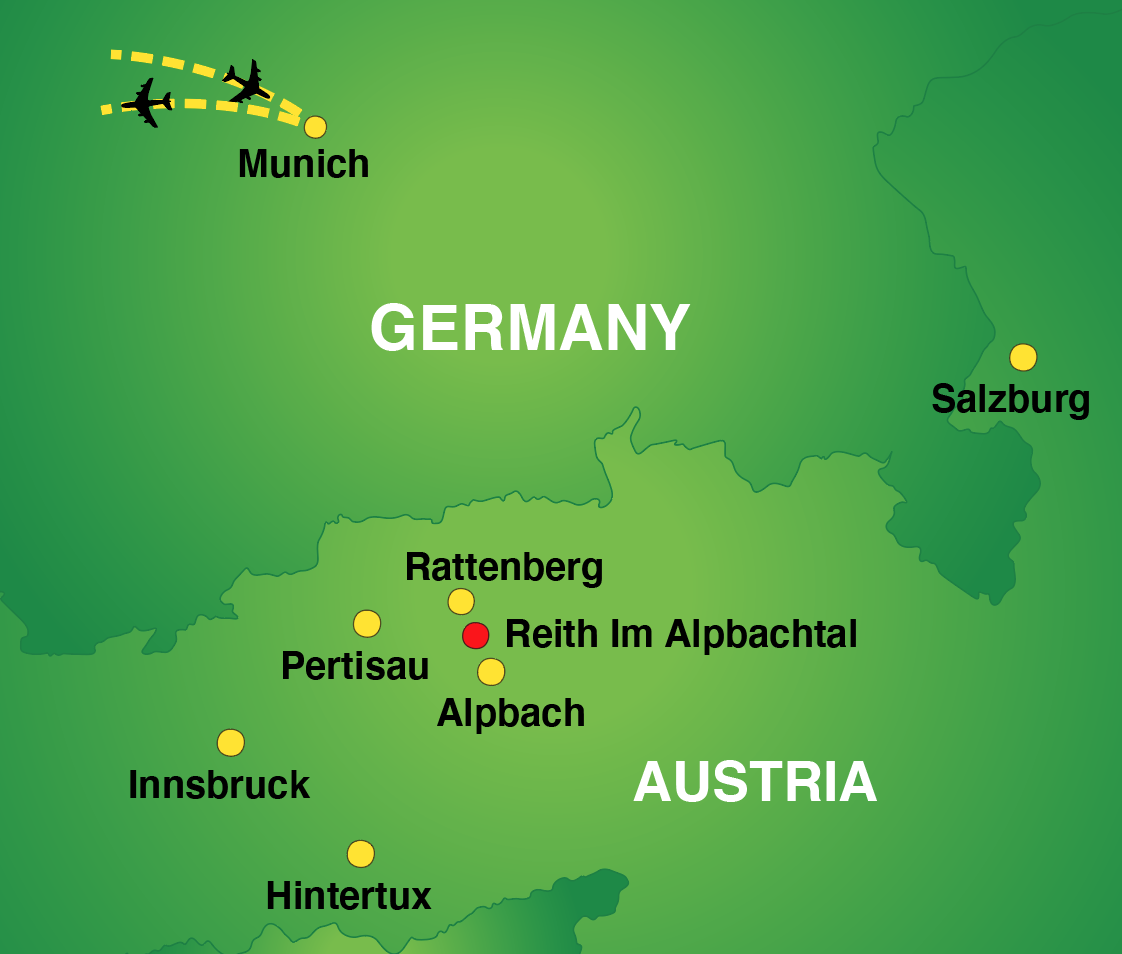 DAYS 1 – 2-CHICAGO/AUSTRIAN ALPS
After an overnight flight from Chicago, arrive at the Munich International Airport. Our European Tour Guide, Patricia Hechenblaikner, will meet us here to start the tour and we'll travel south to the picturesque Austrian village of Reith im Alpbachtal and check in at the charming flower-bedecked Hotel Stockerwirt, where we will unpack once and spend the next nine nights at our "home away from home". Meals: D
DAY 3-REITH IM ALPBACHTAL/MOUNT KOGL/FARMHOUSE VISIT
Begin the day with a guided stroll around the delightful village of Reith im Alpbachtal and a visit to the beautiful local Baroque church. Enjoy a leisurely lunch at the Hotel Stockerwirt. This afternoon, ascend by scenic cable car from the village up to the top of Mount Kogl – some fantastic views to be enjoyed high in the Austrian Alps. After descending the mountain, conclude this special day with a visit to a local farmhouse to meet the family and learn about their traditions and way of life. Meals: B, L, D
DAY 4-HINTERTUX GLACIER/CHEESE DAIRY
Some spectacular Alp's scenery is in store for today. Travel aboard your motorcoach to Hintertux, and ride to the top of the 10,000-foot high mountain glacier on a high-speed cable car – an amazing experience! Once on the park plateau, marvel at the spectacular views as you take a leisurely stroll through the untouched landscape. Watch the high-mountain skiers take to the slopes, and relax in the mild autumn sunshine as you scan the skies for Alpine birds of prey. Enjoy lunch at the mountaintop restaurant on your own, and then descend to lower altitudes and travel to the alpine resort of Mayrhofen and then onward to the cheese dairy in Fügen. Enjoy a tour of the dairy and its museum, which showcases the changes to cheese-making that have occurred during the last 100 years. Meals: B, D
DAY 5-SALZBURG/MOZART/ "SOUND OF MUSIC"
A delightful drive through the Alps to the city of Salzburg and home to the "Sound of Music" and birthplace of the musical genius Mozart is planned for today. Known as one of Europe's most beautiful cities, the romantic old town lies at the foot of the Hohensalzburg Fortress which rises above the baroque buildings of this historic city. The focal point of the old town is the spacious Residenzplatz, dominated by the cathedral and its baroque fountain. Nearby in the Getreidegasse, Salzburg's most famous shopping street, we shall take a view of Wolfgang Amadeus Mozart's birthplace. The life of the Von Trapp family is also entwined with that of Salzburg. In the lovely scenery around the city and in the city itself we will visit original film locations of the "Sound of Music". On the way back to Reith im Alpbachtal, stop at the Hotel Stanglwirt, situated at the foot of the Wilder Kaiser Mountains. Here a delectable dinner will be served, featuring specially prepared meats from the hotel's own farm. Meals: B, D
DAY 6-INNSBRUCK/SWAROVSKI CRYSTAL WORLD
Travel to Innsbruck, capital city of Tyrol, scenically nestled at the foot of the Northern Karwendel Chain of Alpine Mountains. This charming mountain city, that hosted the Winter Olympics in both 1964 and 1976, prides itself on its outgoing residents and idyllic setting. On your guided tour of the Old Town, see the historic Hofkirche (court church) constructed in the 16th Century by Emperor Ferdinand I as a memorial to his grandfather, Emperor Maximilian I. Also see Innsbruck's most famous landmark in the heart of the historic old town – the Golden Roof, a splendid alcove balcony, gets its name from the 2,657 fire-gilded copper tiles that adorn the roof. The building has reigned over medieval houses and shady arcades for more than 500 years. It was built by Emperor Maximilian who very much enjoyed the view: from there he would look down over the colorful hustle and bustle of his city, watch jousting tournaments, and be revered from below. After time for lunch and strolling through the Old Town squares, visit the Bergisel, the imposing Olympic ski jump. Then, tour the Swarovski Crystal Worlds, which opened in 1995 to mark the centennial anniversary of the company's founding. Multimedia artist André Heller designed a magnificent park and pavilions to showcase Swarovski Crystal. This beloved attraction has brought moments of wonder to more than 15 million visitors from all around the world, who are surprised, touched, and perhaps even transformed by crystal in all its facets. Meals: B, D
DAY 7-ACHEN LAKE/GRAMAI ALM/SCHNAPPS DISTILLERY
After breakfast, transfer to the shore of Achen Lake, the largest lake in the Tyrol that is 400 feet deep in some spots. Many visitors compare it to the glacial lakes of Norway. Board the Achen Lake ferry steamboat at Seespitz and set sail for a leisurely and scenic crossing to the village of Pertisau. The ferry service has been operating since 1887, when the first steam ferries were brought to this high-mountain lake more than 3,000 feet above sea level. From Pertisau, travel aboard the motorcoach along the Karwendel Alps mountain range to Gramai Alm, a 500-hundred-year old high meadow pasture. Here, you will see the spectacular Alpine hut resort and enjoy time shopping for freshly made goat cheese. There will also be time for a tasty lunch on your own at the resort café. Conclude the day by traveling high into the mountains aboard small transfer vehicles to visit a farmstead to see how Schnapps "spirit drinks" are distilled. Once back at the hotel and after a scrumptious dinner, enjoy a traditional Austrian "Tyrolean Show" with music and dance. Meals: B, D
DAY 8-CATTLE PARADE & KERMIS FESTIVAL
Every year at the end of September, farmers from this area of the Tyrolean region preserve an ancient tradition as they drive their cattle from summertime mountain pastures back to safe shelters in the village. The cattle drive becomes a huge celebration – the Kermis Festival – for locals and visitor alike, with all the cattle decorated with floral wreaths and tinkling bells. You will experience it all as we spend the day out in the village admiring the cattle parade, listening to local brass bands, and strolling among the many arts and crafts stalls set up by local crafts people. Homemade Schnapps will be the toasting beverage of the day, but beer will flow in abundance, as well; and villagers will be making homemade cakes, pies, and pastries. It is truly a memorable day, celebrating with friends, old and new! Meals: B, D
DAY 9-KIRCHTAG FESTIVAL/GLASS BLOWING
At the nearby villages of Kramsach and Rattenberg, an exciting day is on tap. The traditional Kirchtag (Sunday) open air festival is one of Austria's most famous. Our day begins with a Festival Parade followed by an open air church service. Kramsach features an outdoor museum, a collection of fourteen traditional farm houses, a saw mill, a blacksmith shop, and a chapel, all dating from the 1500s through the 1700s. Each building was disassembled at its original location, transported to the museum, and reassembled – a fascinating look at the Tyrol of years gone by. Bands and singing groups will provide a musical backdrop to today's festivities. Rattenberg is Austria's smallest medieval town with just 400 inhabitants. Standing on the banks of the Inn River, Rattenberg is tucked between the fortress on the hill and the river. The medieval center is full of colorful stuccoed townhouses, cobbled streets, and alleyways where talented glass blowers ply their trade to the delight of onlookers. Meals: B, D
DAY 10-ALPBACH/WEIDERBERGERHORNBAHN
Begin the day with a guided stroll around the neighboring village of Alpbach, voted Austria's "most beautiful village" due to its authentic Tyrolean-style wooden houses, accented by beautiful flower boxes. Ascend more than 4,000 feet up Gratlspitz Mountain aboard the high speed Weiderbergerhornbahn cable car and take in the breath-taking views from atop the mountain. After lunch, there will be time for some last minute souvenir shopping. And then, this evening at the Hotel Stockerwirt, revel in the "Farewell to Tyrol" dinner. Meals: B, D
DAY 11-AUF WIEDERSEHEN/CHICAGO
Following one last delectable Austrian breakfast, head home filled with memories of new friends, scenic vistas, and incredible visits! Meals: B
Quality Accommodations:
Nights 2 – 10: Hotel Stockerwirt, Reith im Alpbachtal, Austria
Dates:
Sep 18-28, 2021

Price Per Person:
Double $3,797; Single $4,095
Land only pricing available.

Pre-/Post-Tour Hotel: Call for Pricing
Depart/Return: Chicago, IL
Average Temps
Highs mid 60's / Lows 50's
Time Zone
+7 hours ahead of Central Time
Arrival Time
Flights available 90 days prior to departure.
Departure Time
Flights available 90 days prior to departure.

Airport Info

Crowne Plaza Chicago O'Hare offers complimentary shuttle service for Pre/Post Hotel accommodations.
Vehicle Parking
Free parking is offered during the tour with Pre or Post tour night accommodations.
Walking Distance
Moderate to Extensive walking on uneven pavement and pathways is required to fully enjoy this tour.
Currency
Euro

Hotel Amenities
Hair dryers, TV/cable, telephone, and Spa services available at hotels.
Additional Information
Flight time from Chicago to Munich is 8 hours 30 minutes, Munich to Chicago is 9 hours 40 minutes. These flights are non-stop.
Land Tours begin one day later. Airport transfers not included with Land Only Tours. Air & Land Tours include government imposed taxes, fees and airline fuel surcharges at time of printing.
Dress on tour is casual.
Further information is mailed upon receipt of your reservation. A total of three mailings are sent to assist you in preparing for your tour…Get Ready, Get Set and Go! Our "Get Ready" packet is sent confirming your reservation. Our "Get Set" packet provides further information approximately 90 days prior to departure with important details regarding making your travel arrangements. Finally, our "Go" packet arrives 2-3 weeks before departure containing your final documents.
Updates
Updates to this document are available from our Discovery Reservations Team, and will be posted online at www.CountryTravelDiscoveries.com/AUS.
Travel Protection Available?
Yes, see CountryTravelDiscoveries.com/TravelProtectionPlan.
Terms & Conditions
Tour reservations are subject to the terms and conditions on our website at CountryTravelDiscoveries.com/terms.
Groups
Have a group? We can make your group's vacation cost-effective and easy, with discounts for groups as small as five and other benefits. Learn more at CountryTravelDiscoveries.com/groups.
Share it
---