Join us for a trip around Great Lake Michigan from bustling cities and quiet harbor towns to lively ethnic enclaves and a unique island town. You'll visit four states as we wind around Lake Michigan visiting Wisconsin, Illinois, Indiana and Michigan. See everything from towering sand dunes and the Mackinac Bridge to unique musical instruments, historic homes and castles. An authentic Great Lake adventure awaits you on this exciting journey. Join us on this special tour of the heart of America for beautiful scenery, friendly faces and fascinating history!
Loop the entirety of Lake Michigan, the only Great Lake contained completely within the U.S.
Glide along the Chicago River on an Architecture Cruise
Personal visits with a blueberry and Alpaca farm and Oswald's Bear Ranch
Behind-the-scenes tours of Lambeau Field & Kilwins Chocolate Kitchen
Explore Sleeping Bear Dunes National Lakeshore and Palms Book State Park
Carriage ride tour around storybook Mackinac Island
Guided tour of Hackley and Hume Home, Mushrooms Houses and Castle Farm
Learn about Maritime history at the Sand Point Lighthouse and Wisconsin Maritime Museum
Free Airport shuttle or hotel parking
Bag handling (1 per person) at hotels
Welcome reception, 24-hour emergency call service, free bottled water on coach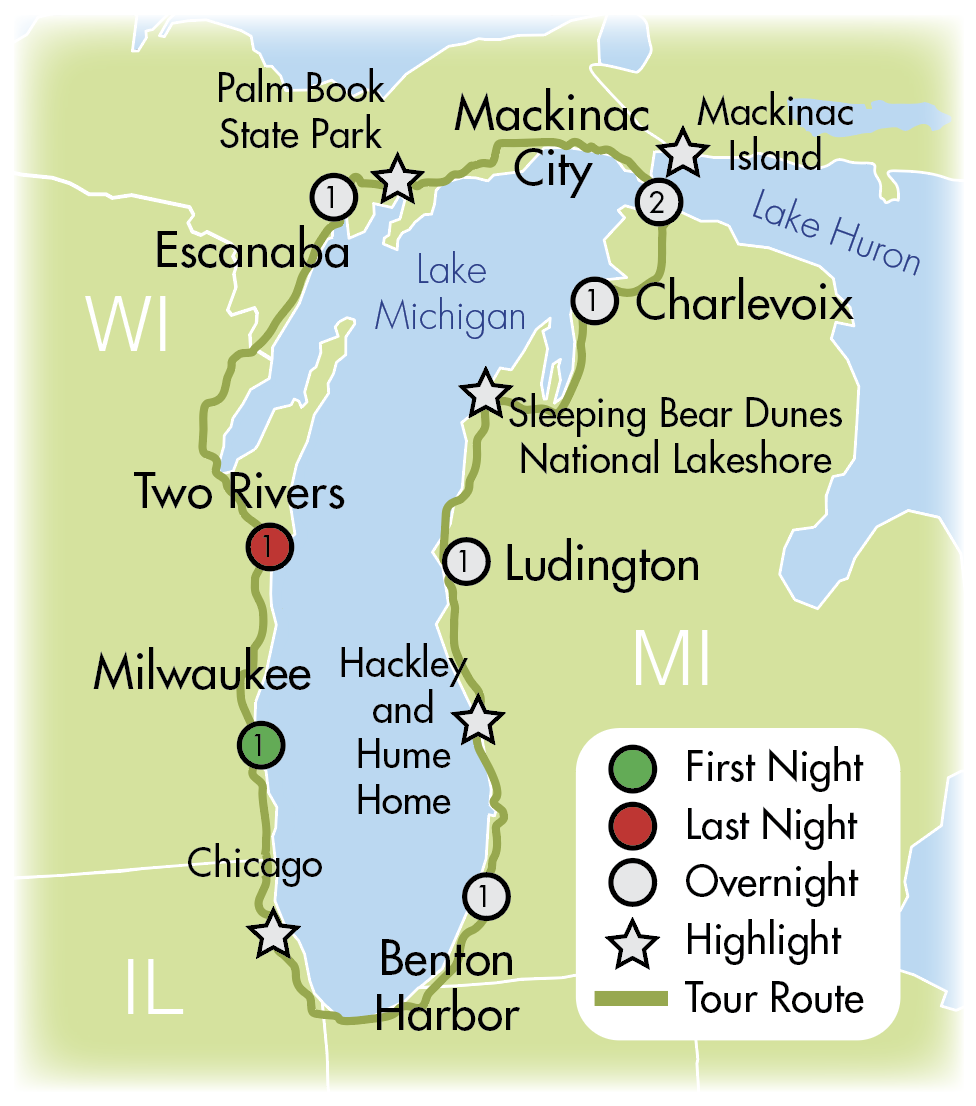 Day 1 – MILWAUKEE Our adventure begins in the Great Lakes City of Milwaukee. At our evening get-together, you'll relax and get to know your new traveling friends and Discoveries Director!
Day 2- CHICAGO We start the day by heading to the Windy City for amazing 360 degree views of Chicago's skyline and the shores of Lake Michigan from the iconic 94th floor of the John Hancock Building observation deck. Next we will have a delicious lunch inside Macy's Department Store at the historic Walnut Room. This world-famous restaurant was the first-ever opened in a department store and will definitely be a meal you won't forget. This afternoon take in the world-renowned architecture of Chicago as we board a guided cruise boat for an unforgettable sail through 130 years of architectural innovation. Tonight we will head around the southernmost point of Lake Michigan through Indiana and into Michigan where we will call Benton Harbor, MI home for the night. B, L, D
Day 3 – BLUEBERRY FARM/HACKLEY & HUME HOME/DUNE RIDE This morning sample Michigan Blueberries at DeGrandchamp's Blueberry Farm in South Haven. Here we meet the DeGrandchamps family, who has been running the over 200 acre farm since 1958. They will discuss how their blueberries are grown and even treat us to a freshly baked blueberry muffin, yum! Next, after a tasty lunch in Muskegon we tour the magnificent Hackley & Hume Home. This amazing home is on the National Register of Historic places and is definitely a sight to see. This afternoon we hop aboard a Dune Buggy and ride the unique sand dunes that line Lake Michigan's eastern shore. Our guide will discuss this exciting family tradition since 1930, how the sand dunes formed over the years and of course provide an exhilarating (and safe) ride. Tonight, we'll spend the night in the port city of Ludington, MI. B, L
Day 4 - SLEEPING BEAR DUNES NATIONAL LAKESHORE/MUSIC HOUSE After breakfast we take a scenic drive to the northeastern shore of Lake Michigan through Sleeping Bear Dunes National Lakeshore. Take in the huge dunes that tower over the lake. You won't believe the incredible vistas! Some of these dunes can reach 450 feet. Next we will head to Traverse City for a tasty lunch and tour the Music House Museum. This unique museum has a collection of restored antique musical instruments, early radios, and recordings. You will even get a chance to play some of the many instruments. Tonight we spend the night in the charming town of Charlevoix, MI. B, L
Day 5 – MUSHROOM HOUSES/CASTLE FARMS/CHOCOLATES/MACKINAW CITY After breakfast, step right into a fairy tale as we explore the magical town of Charlevoix. First, a knowledgeable guide steps on our motorcoach to take us through the town to see the Earl Young Mushrooms houses. These houses are made mostly of limestone, fieldstone, and boulders found throughout Northern Michigan. Each of these houses is different and is designed to blend in with its surrounding landscape. Next, enjoy a guided walking and tram tour of magnificent Castle Farms. This large castle is home to an outdoor model railroad, gardens, huge private collections of royal china, antique toys, WWll memorabilia and much more. After our tour, dine like a King and Queen inside the castle for lunch. This afternoon we're in for a real treat! We visit Kilwins Chocolate Kitchen where an expert guide will explain how all the sweet chocolates, caramel corn, fudge, brittles and ice creams are made. Of course there will be plenty of samples to try. Tonight unpack for two nights in Mackinaw City. Here you will be at the very Northern tip of Michigan's Lower Peninsula and will have amazing lake views out your hotel room window. B, L
Day 6 – FERRY TO MACKINAC ISLAND/CARRIAGE TOUR/GRAND HOTEL This morning, board a ferry and cruise over to Mackinac Island from Mackinaw City. Once on the island we start our exploration by taking a relaxing horse-drawn carriage tour around the island. Afterwards, delight in a delicious lunch and historic tour of the famous Grand Hotel. This afternoon, enjoy some free time to wander through the unique shops, buy some tasty fudge or watch the boats pass by. Later, return to the mainland for our second night in Mackinaw City. B, L
Day 7 – BEAR RANCH/PALMS BOOK STATE PARK/ESCANABA This morning wave good bye to the Lower Peninsula of Michigan as we drive over the "Mighty Mac" an architectural wonder and one of the longest suspension bridges in the world at five-mile-long to Michigan's Upper Peninsula. We stop at a nearby park for photos of this amazing bridge before we head to Bear Country. Yes, that's right we will meet over 40 bears as we safely walk around Oswald's Bear Ranch in Newberry, MI. Dean Oswald opened the ranch back in 1995, and now is the largest bear-only ranch in the United States. After lunch, continue on to Palms Book State Park. Inside the park we will get to see Kitch-iti-kipi. The locals call it "Big Spring" of the Upper Peninsula. This amazing spring is 200 feet in diameter and nearly 42 feet deep. Every minute it delivers 16,000 gallons of crystal clear water. This is definitely a natural wonder you won't want to miss. Tonight we will be staying in another port city, Escanaba, MI located on Little Bay de Noc. B, L
Day 8 – SAND POINT LIGHTHOUSE/CHEESE SHOP/LAMBEAU FIELD/WOOD TYPE MUSEUM After breakfast we visit Sand Point Lighthouse. This Lighthouse has been shining its light since 1868 in Escanaba. Ships of all kinds have been guided by this lighthouse from steamers and whalebacks caring iron ore and lumber from sawmills to even before the railroad reached Escanaba passengers arrived by boat from the south. After our guided tour of the Sand Point Lighthouse we return to America's Dairyland. As we enter Wisconsin we will stop for cheese samples and shopping at a local cheese shop. Here we find everything from cheese and sausages to jams and jellies to Moccasins and home décor. This afternoon experience the Green Bay Packers history-rich facility firsthand as we tour and have lunch at Lambeau Field. Take a behind-the-scenes tour including getting to walk on the outer perimeter of the field. Have your camera ready as there will be plenty of amazing photo opportunities on this tour. To end the day we visit Hamilton Wood Type & Printing Museum and see the preservation and production of wood type used in letter press printing. Tonight we stay in Two Rivers, WI overlooking Lake Michigan. B, L
Day 9 – ALPACAS/MARITIME MUSEUM: This morning we meet some very cute animals that are very eager to see us at London Dairy Alpaca Ranch. Kevin Stoer has been raising Alpacas since 1996 on his family's old dairy farm. The farm no longer raises cows but rather lots of friendly Alpacas. On the farm you will get the chance to feed and take pictures with Alpacas. We have a guided tour of the farm with time to shop in the Alpaca gift shop where there are many products hand picked out by Stoer himself on his trips to Peru. This afternoon, we learn about Lake Michigan's Maritime history and heritage at the Wisconsin Maritime Museum. You will also have the chance to take a tour and walk through the WWll USS Cobia submarine. Savor lunch overlooking Lake Michigan and reminisce with new friends about the amazing journey around our Great Lake Michigan before returning to Milwaukee and home. B, L
QUALITY ACCOMMODATIONS

Night 1: Hampton Inn Milwaukee/Franklin, Milwaukee, WI
Night 2: Courtyard by Marriott St. Joseph Benton Harbor, MI
Night 3: Best Western Lakewinds, Ludington, MI
Night 4: Weathervane Inn and Terrace, Charlevoix, MI
Nights 5-6: Mackinaw Beach and Bay, Mackinaw City, MI
Night 7: Comfort Suites, Escanaba, MI
Night 8: Lighthouse Inn on Lake Michigan, Two Rivers, WI
Date:
Aug 26-Sep 3, 2022
Sep 9-17, 2022
Sep 23-Oct 1, 2022

Price Per Person:
Double $2,197; Single $2,835

Pre/Post Tour Hotel: $158/night

Depart/Return:
Milwaukee, WI
Average Temps
high 85°/low 55° (August)
high 70°/low 50° (September)

high mid-60's/low 50° (October)
Time Zone
Central
Arrival Time
Schedule your flight to arrive by 4:00 p.m. on Day 1.
Departure Time
Schedule your flight home any time after 6:00 p.m. on Day 9.
Airport Info
Starting hotel offers complimentary shuttle service to Hampton Inn Milwaukee/Franklin.
Vehicle Parking
Complimentary for duration of tour.
Walking Distance
Moderate to moderately extensive walking is required to fully enjoy this tour. Some walking can be on uneven surfaces.
Currency
US Dollar
Hotel Amenities
Hair dryers, irons, ironing boards & coffee makers throughout tour. Exercise room and swimming pool available at most hotels.
Additional Information
Further information is mailed upon receipt of your reservation. A total of three mailings are sent to assist you in preparing for your tour…Get Ready, Get Set and Go! Our "Get Ready" packet is sent confirming your reservation. Our "Get Set" packet provides further details approximately 90 days prior to departure with important details regarding making your travel arrangements. Finally, our "Go" packet arrives 2-3 weeks before departure containing all your final documents.
Updates: Updates to this document are available from our Discovery Reservations Team, and will be posted online at CountryTravelDiscoveries.com/ALM
Travel Protection Available?
Yes, see CountryTravelDiscoveries.com/TravelProtectionPlan.
Terms & Conditions
Tour reservations are subject to the terms and conditions on our website at CountryTravelDiscoveries.com/terms.
Groups
Have a group? We can make your group's vacation cost-effective and easy, with discounts for groups as small as five and other benefits. Learn more at CountryTravelDiscoveries.com/groups.
Share it
---