Join us for a trip around Great Lake Michigan where you'll visit Wisconsin, Illinois, Indiana, and Michigan. See everything from towering sand dunes and the Mackinac Bridge to unique musical instruments, historic homes and castles. An authentic Great Lake adventure awaits you on this exciting journey!

Loop the entirety of Lake Michigan
Cruise the Chicago River
Explore Sleeping Bear Dunes
Enjoy a Mackinac Island Carriage Ride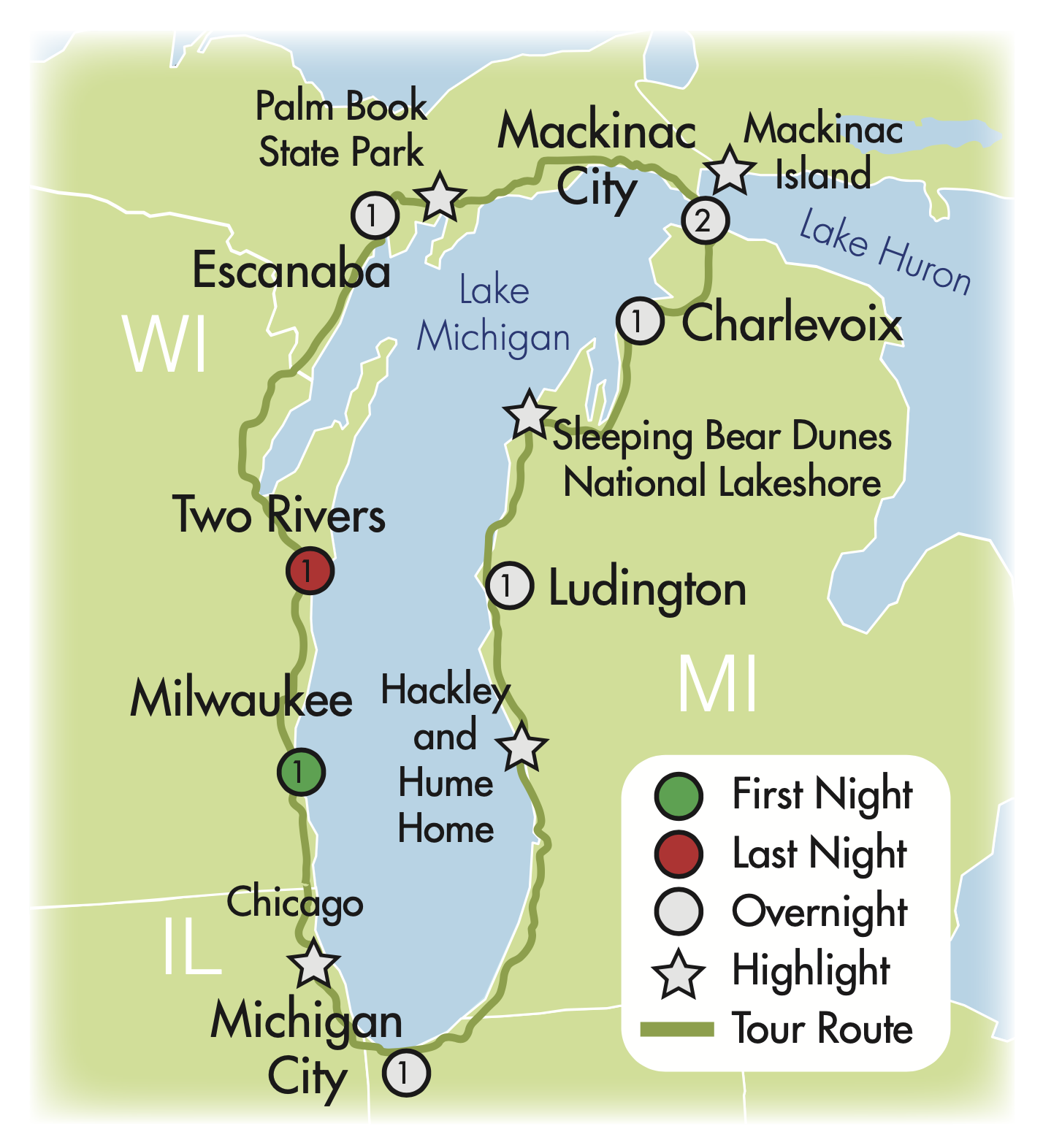 DAY 1—WELCOME TO WISCONSIN!
Our adventure begins in the Great Lakes City of Milwaukee. At our evening welcome dinner, you'll relax and get to know your new traveling friends and Tour Director! D
DAY 2—CHICAGO CITY TOUR
We start the day by heading to the Windy City of Chicago to take in the world-renowned architecture as we board a guided cruise through the city to see all the local highlights! After a delicious lunch we head up to the 94th floor of the iconic John Hancock Building observation deck for amazing 360-degree views of Chicago's skyline. Tonight, travel around the southernmost point of Lake Michigan through Indiana for the night. B, L
DAY 3—BLUEBERRY FARM/HACKLEY & HUME HOME/DUNE RIDE
This morning, sample Michigan Blueberries at DeGrandchamp's Blueberry Farm in South Haven. Here we meet the DeGrandchamps family who have been running the over 200-acre farm since 1958. Next, after a tasty lunch we tour the magnificent Hackley & Hume Home on the National Register of Historic places. This afternoon, hop aboard a Dune Buggy and ride the unique sand dunes that line Lake Michigan's eastern shore! Tonight, we stay in the port city of Ludington, MI. B, L
DAY 4—SLEEPING BEAR DUNES NATIONAL LAKESHORE/MUSIC HOUSE
After breakfast, we take a scenic drive to the northeastern shore of Lake Michigan through Sleeping Bear Dunes National Lakeshore. You won't believe the incredible vistas! Some of these dunes can reach 450 feet. Next, we continue on for a tasty lunch and tour at the Music House Museum to see their collection of restored antique musical instruments, early radios, and recordings. Tonight, we spend the night in the charming town of Charlevoix, MI. B, L
DAY 5—MUSHROOM HOUSES/CASTLE FARMS/CHOCOLATES/MACKINAW CITY
After breakfast, step right into a fairy tale as we explore the magical town of Charlevoix. First, a knowledgeable guide steps on our motorcoach to show us the Earl Young Mushrooms houses. Next, enjoy a guided walking and tram tour of magnificent Castle Farms. This large castle is home to an outdoor model railroad, gardens, huge private collections of royal china, WWll memorabilia and much more. After our tour, dine like a King and Queen inside the castle for lunch. This afternoon we're in for a real treat as we visit Kilwins Chocolate Kitchen! Here an expert guide will explain how all their sweet chocolates and ice creams are made. Tonight, unpack for two nights in Mackinaw City and enjoy amazing lake views out your hotel room window. B, L
DAY 6—FERRY TO MACKINAC ISLAND/CARRIAGE TOUR/GRAND HOTEL
This morning, board a ferry and cruise over to the world-renowned Mackinac Island. We'll start our exploration by taking a relaxing horse-drawn carriage tour around the island. Afterwards, take part in a delicious lunch and historic tour of the famous Grand Hotel. This afternoon, enjoy free time to wander through the unique shops, buy some tasty fudge, or watch the boats pass by. Later, return to the mainland for our second night in Mackinaw City. B, L
DAY 7—BEAR RANCH/PALMS BOOK STATE PARK/ESCANABA
This morning's adventure includes a drive over the "Mighty Mac", one of the longest suspension bridges in the world. Next, we'll safely walk around Oswald's Bear Ranch in Newberry, MI - the largest bear-only ranch in the United States. After lunch, continue on to Palms Book State Park to see the beautiful waters of Kitch-iti-kipi, Michigan's largest natural freshwater spring! Tonight's stay is in Escanaba, MI. B, L
DAY 8—SAND POINT LIGHTHOUSE/CHEESE SHOP/LAMBEAU FIELD/WOOD TYPE MUSEUM
After breakfast, we visit the Sand Point Lighthouse built in 1868 before returning to America's Dairyland. As we enter Wisconsin, enjoy a stop at a local cheese shop! This afternoon, experience the Green Bay Packers history-rich facility firsthand with a behind-the-scenes tour and lunch at Lambeau Field. To end the day, we visit Hamilton Wood Type & Printing Museum and see the preservation and production of wood type used in letter press printing. B, L
DAY 9: ALPACAS/MARITIME MUSEUM
Enjoy this morning with some very cute alpacas at London Dairy Alpaca Ranch. On the farm you will get the chance to feed and take pictures before our guided tour of the farm with time to shop. After lunch, we learn about Lake Michigan's Maritime history and heritage at the Wisconsin Maritime Museum. You will also have the chance to take a tour and walk through the WWll USS Cobia submarine. We will make our way back to Milwaukee and reminisce with new friends about the amazing journey around Great Lake Michigan before returning home. B, L

Quality Accommodations
Night 1: Hampton Inn Milwaukee/Franklin, Milwaukee, WI
Night 2: Country Inn and Suites, Michigan City, IN
Night 3: Best Western Lakewinds, Ludington, MI
Night 4: Weathervane Inn and Terrace, Charlevoix, MI
Nights 5-6: Mackinaw Beach and Bay, Mackinaw City, MI
Night 7: Comfort Suites, Escanaba, MI
Night 8: Cobblestone Hotel & Suites, Two Rivers, WI
Dates:
Jul 14-22, 2023
Aug 18-26, 2023
Sep 29-Oct 7, 2023
Price Per Person:
Double $2,477
Single $3,315

Pre/Post Tour Hotel:
$158/night

Depart/Return:
Milwaukee, WI
Inclusions:
Free airport shuttle or hotel parking
Welcome Dinner and meals as indicated (B=breakfast, L=lunch, D=dinner)
Fees and tips for included attractions and meals
Luggage handling of one suitcase per person at hotels
Free bottled water on coach
24-hour emergency call service
Arrival Time
Our Welcome Dinner on Day 1 is at our hotel, Hampton Inn Milwaukee/Franklin, starting at 6:30 p.m. We recommend scheduling your flight to arrive by 4:00pm.
Departure Time
Schedule your flight home to depart the Milwaukee Mitchell International Airport any time after 6:00 p.m. on Day 9. If you need to book a post night, please schedule flights out after 8:00 a.m. if you wish to use the complimentary hotel shuttle in the morning.
Airport Transportation / Vehicle Parking
Our starting hotel offers a complimentary shuttle service to/from Milwaukee Mitchell International Airport. Please send us your flight schedule so we can make sure the shuttle will be ready for you. If you are driving to the starting location, they also offer complimentary parking for the duration of the tour.
Walking Distance
Moderate walking is required to fully enjoy this tour. Some walking will also be on uneven paths and sand. While walking canes are allowed, we are unable to accommodate travelers using other mobility devices, including walkers and wheelchairs.
Average Temps
July/August – high of 80°, low of 65°
September/October – high of 65°, low of 55°
Time Zone
Wisconsin – Central
Michigan – Eastern
Hotel Amenities
Each hotel has a hair dryer, iron, ironing boards, swimming pool and Wi-Fi.
Additional Information
A total of three mailings are sent to assist you in preparing for your tour, including information sent upon receipt of your reservation.
Dress on tour is casual. Closed toes shoes are recommended. Sunscreen, sunglasses, hat, visors, and comfortable walking shoes will add to your enjoyment of this tour.
Travel Protection Available?
Yes, see CountryTravelDiscoveries.com/TravelProtectionPlan.
Share it
---