Escape the cold weather this February! Join Olbrich Botanical Garden staff - Horticulturist Erin Presley on the February 16-21, 2020 departure, and Director of Horticulture Jeff Epping on the February 23-28, 2020 departure - in Arizona for a fascinating warm weather botanical visit to Arizona. We'll visit iconic southwestern horticultural sites such as the Desert Botanical Garden, Japanese Friendship Garden, Tohono Chul Gardens, The Arizona-Sonora Desert Museum, Saguaro National Park, plus private nurseries and gardens. Along the way, we'll also experience Taliesin West, take a narrated Tram ride amongst the rich flora and fauna of Sabino Canyon, walk through the Biosphere 2, and experience delicious southwestern cooking.

Meet Erin Presley, Olbrich Botanical Gardens Horticulturist
Erin Presley has been a Horticulturist in the Herb and Wildflower Gardens at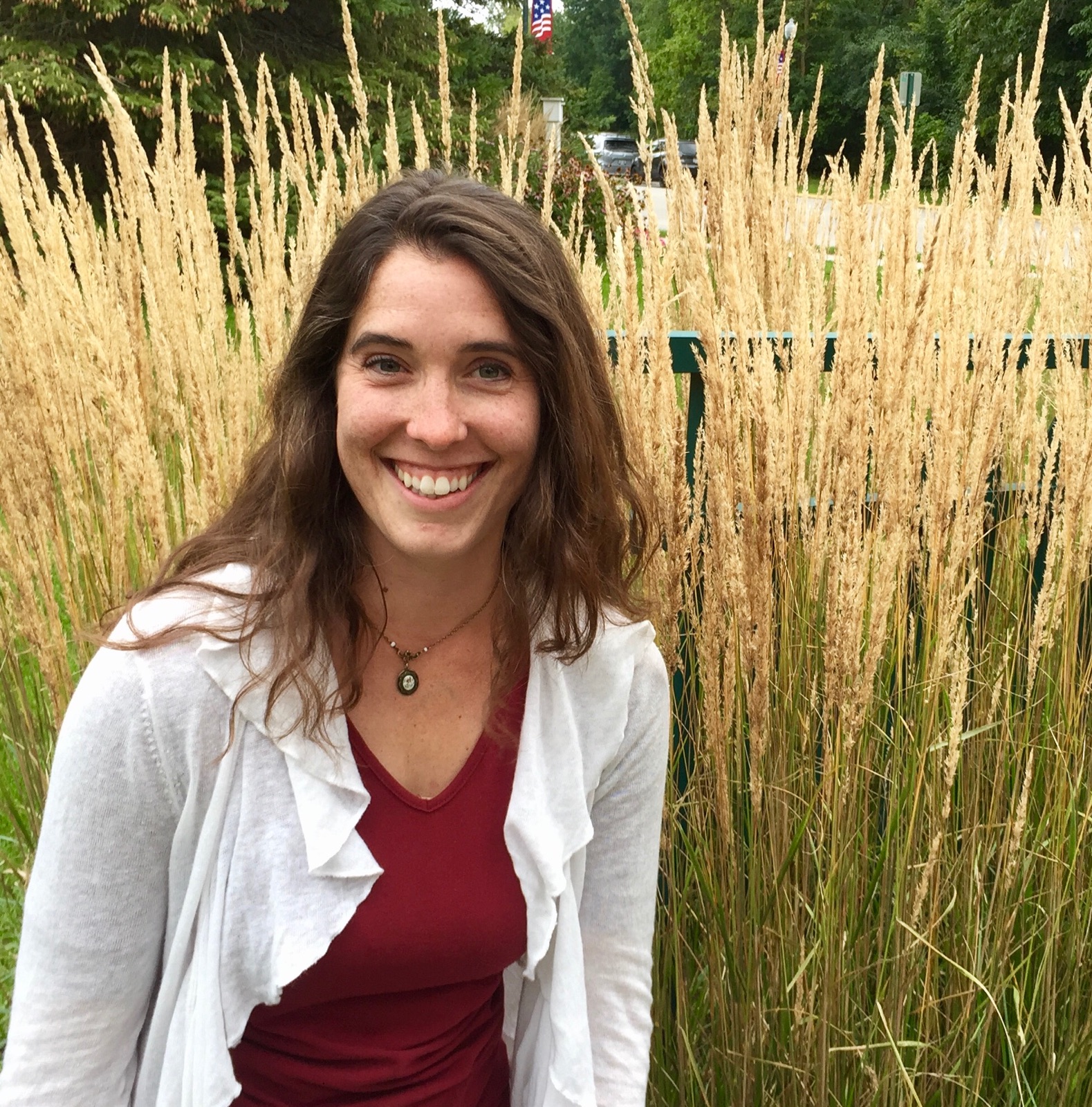 Olbrich Botanical Gardens in Madison, Wisconsin, since 2014. Growing up in rural central Wisconsin, she had her hands dirty from her parents' gardens, exploring the woods, and growing fruits, vegetables and flowers to exhibit at the 4-H Fair. Her varied gardening interests have grown to include native and woodland plantings, sedges, salvias, American ginseng, and all things related to herbs, vegetables, and cooking. In addition to putting together articles, workshops and lectures at Olbrich and for other gardening groups, you may have seen her work in Fine Gardening or The Wisconsin Gardener, or heard her on Wisconsin Public Radio's Garden Talk.

Meet Jeff Epping, Olbrich Botanical Gardens Director of Horticulture
Jeff Epping has been Director of Horticulture at Olbrich Botanical Gardens for 25 years. He
oversees the horticultural operations and garden designs of over ten inspirational display gardens, show-casing the best plants for south-central Wisconsin. Epping and his staff have practiced and preached sustainable gardening for years, which is reflected in their environmentally friendly cultural practices and innovative award winning garden designs.

A graduate of the University of Wisconsin-Madison, Epping holds a bachelor's and master's degree in Ornamental Horticulture. He served as Propagator and Nursery Manager at the Chicago Botanic Garden before joining the staff at Olbrich. Epping regularly lectures and teaches throughout the Midwest on landscape plants and designs for northern gardens. He also writes for regional and national horticultural journals.
Unpack just twice, two nights in Phoenix and three nights in Tucson
Iconic Arizona botanical sites, including Arizona Sonora Desert Museum, Tohono Chul, and Desert Botanical Gardens
Take in the beauty of Saguaro National Park at sunset
Private nursery and garden visits
Off-the-beaten-path experiences, such as Boyce Thompson Arboretum and Arizona Biosphere 2
Tram ride through Sabino Canyon
Visit Frank Lloyd Wright's Taliesin West
Scrumptious western dinners at Rustler's Rooste and Tanque
Verde Dude Ranch
Welcome reception, 24-hour emergency call service, free bottled water on coach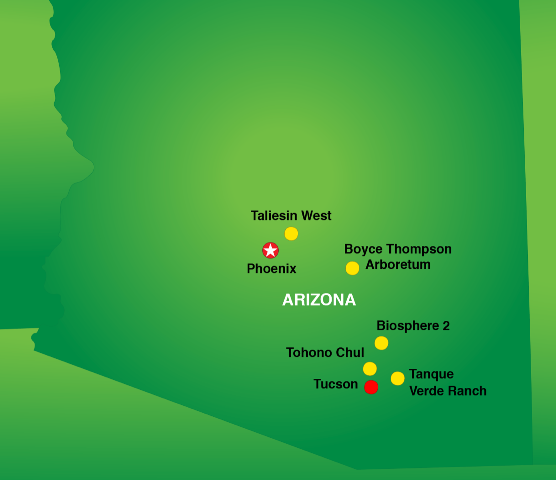 DAY 1—PHOENIX
Blessed with 360 sunny days a year, Arizona offers flora and fauna at its best. Arrive today, and this evening get to know your fellow travelers at our welcome reception.
DAY 2—TALIESIN/DESERT BOTANICAL GARDEN/RUSTLER'S ROOSTE
This morning we tour Taliesin West, a UNESCO World Heritage site nestled in the McDowell Mountain desert foothills. Frank Lloyd Wright's beloved winter home is deeply connected to the desert, and is considered one of the most personal of the architect's creation. The Arizona desert is home to thousands of species of cactus, trees and flowers, and one of the best places to experience this awesome variety is at the Desert Botanical Garden. Over 50,000 are displayed here, including hundreds of endangered species. Tonight, we enjoy dinner at Rustler's Rooste, situated atop a butte of South Mountain. Once a hideout for cattle rustlers, we'll enter through a mine shaft and saunter over an indoor waterfall. B, L, D
DAY 3—BOYCE THOMPSON ARBORETUM/BIOSPHERE 2
First off today is a visit to the Queen Creek Olive Mill, home of Arizona's only working olive farm and mill. Here we learn first hand how olives are pressed into fresh extra virgin olive oil. Next we head into the desert to the Boyce Thompson Arboretum. Set against towering Picketpost Mountain, the Arboretum brings together plants from our planet's many varied deserts and dry lands, displaying them alongside native Sonoran Desert vegetation. Later, one of the world's most unique facilities dedicated to the research and understanding of global scientific issues hosts us. The Biosphere 2 facility serves as living laboratory where the desert, rainforest, ocean and other ecosystems are monitored and studied. We settle in for the next three evenings at the newly opened Embassy Suites in Tucson—where each room is a deluxe two room suite. B, L
DAY 4—TOHONO CHUL/PRIVATE GARDEN/ARIZONA-SONORA DESERT MUSEUM/DUDE RANCH
This morning, embrace the authentic beauty of the Sonoran Desert at Tohono Chul, set against the spectacular Santa Catalina Mountains. Named "One of the World's Ten Best Botanical Gardens" by Travel & Leisure, Tohono Chul offers winding paths past soaring Saguaros, themed gardens and encounters with busy hummingbirds. The Arizona-Sonora Desert Museum, ranked as one of the Top 10 Museums in the Country by Trip Advisor, is different than most—85% of the experience is outdoors. Besides plant life, 242 animal species are on display, as is one of the world's most comprehensive mineral collections…you'll have ample time to explore. The giant saguaro, our country's largest cacti, is only found in a small area of the United States. These majestic plants, are a famous symbol of the Southwest and protected by Saguaro National Park. Tonight we travel "out west"...well, at least figuratively…to the Tanque Verde Dude Ranch for a down-home ranch BBQ experience. All the fixn's will be available, along with live music, a roaring fire, and an incredible backdrop against the Rincon Mountains. B, L, D
DAY 5—SABINO CANYON/TUSCON GARDENS
With soaring mountains and deep canyons, the unique plants and animals of the Sonoran Desert welcome us this morning on a tram ride through Sabino Canyon. We experience desert foothills, rocky gorges, spectacular canyons, and more. Next, we travel to Tucson's Mission Garden, a re-creation of the Spanish Colonial walled garden that was a part of the San Agustin Mission. The garden features heirloom Sonoran Desert-adapted fruit orchards and vegetable gardens interpreting 4,000 years of agriculture in Tucson. Afterwards, we'll enjoy some free time at Mercado San Agustin, an open-air courtyard lined with shops and restaurants. This afternoon, some may wish to head back to our hotel for relaxation and pool time—while others may join us at the University of Arizona's Demonstration Gardens. The cornerstone is an official All-American Selections Display Garden, while other gardens include Basin Edible, Color, Grass, Habitat, Pollinator, Edible, Rose, and Small Space. Tonight, relax at the hotel enjoying a magnificent desert sunset with your traveling companions. B, L
DAY 6—JAPANESE FRIENDSHIP GARDEN
On our way home we will stop at the Japanese Friendship Garden of Phoenix, an authentic Japanese Stroll Garden with tea garden and tea house. This tranquil setting features more than 1,500 tons of hand-picked rock, flowing streams, Koi ponds, and several varieties of plants. After, we head to the Phoenix airport and our starting hotel with plenty of memories of gorgeous southern Arizona and its colorful plants, flowers, landscapes and wildlife. B

Quality Accommodations
Nights 1-2: Crowne Plaza Phoenix Airport
Nights 3-5: Courtyard Tuscon Williams Center

Dates:
Feb 16-21, 2020 Call for Availability
Feb 23-28, 2020 Call for Availability


Price Per Person:
Double $1,577; Single $1,895
Pre-/Post-Tour Hotel: $218/night
Average Temps
high 70°/low 45°
Time Zone
-1 hour from Central Time
Arrival Time
Schedule your flight to arrive into Phoenix by 4:00 p.m. on Day 1. 
Departure Time
Schedule flights to depart Phoenix after 2:30 p.m. on Day 6.
Airport Info
Starting hotel offers 24-hour complimentary shuttle service. 
Vehicle Parking
Free parking is offered during the tour at our starting hotel.
Walking Distance
Moderate walking at a leisurely pace is required to fully enjoy this tour. Some walking will be on uneven paths.
Currency
US Dollar
Hotel Amenities
Hair dryers, TV/cable, telephone, swimming pools and Spa services available at hotels.
Additional Information
Dress on tour is casual.
Further information is mailed upon receipt of your reservation. A total of three mailings are sent to assist you in preparing for your tour…Get Ready, Get Set and Go! Our "Get Ready" packet is sent confirming your reservation. Our "Get Set" packet provides further information approximately 90 days prior to departure with important details regarding making your travel arrangements. Finally, our "Go" packet arrives 2-3 weeks before departure containing your final documents.
Updates
Updates to this document are available from our Discovery Reservations Team, and will be posted online at CountryTravelDiscoveries.com/AZG.
Travel Protection Available?
Yes, see CountryTravelDiscoveries.com/TravelProtectionPlan.
Terms & Conditions
Tour reservations are subject to the terms and conditions on our website at CountryTravelDiscoveries.com/terms.
Groups
Have a group? We can make your group's vacation cost-effective and easy, with discounts for groups as small as five and other benefits. Learn more at CountryTravelDiscoveries.com/groups.
Share it
---