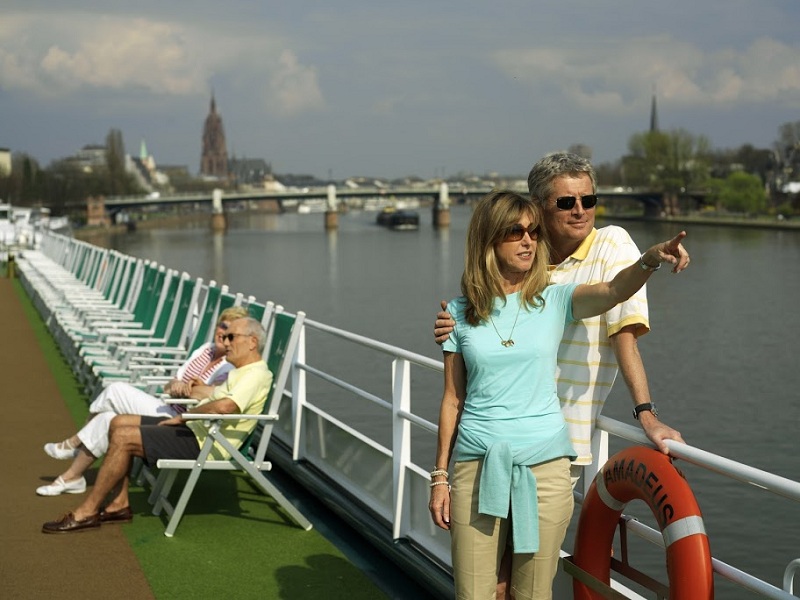 ---
Why Take a River Cruise?
Nov 17, 2017
A European River Cruise Offers Unparalleled Convenience, Comfort
As Country Travel DISCOVERIES has been preparing for the return of Magical Danube & Prague President's Charter Cruise in 2018, we've been fielding many excited questions from travelers curious about river cruising. So, just why is river cruising one of the hottest trends in leisure travel today?
River cruising offers an unparalleled level of convenience where you will enjoy smooth and peaceful sailing throughout your cruise. Once on board, you will only unpack once in your comfortable, fully equipped cabin.
River cruising is comfortable and convenient. There are no all-night parties, casinos on board (though some towns you visit may have them) or midnight buffets. You won't wait in long lines to dine and you don't need to get a number just to get off the ship. You will never have to tender into port as you stop right in the heart town.
River cruising in Europe is about experiencing and learning about the history and cities that are along the river. When you are cruising during the daytime it is often through the most historical and scenic spots in the area. Land is always in view so you're never just looking at water. Your boat is unique in that the restaurant is located on the mid-deck, which offers you floor to ceiling windows for great viewing while dining.
You won't deal with sea-sickness. Plus, there are no inside cabins or port holes, as all cabins have a window or a French Balcony. And if that's not enough...
Nine Reasons to Take a River Cruise over an Ocean Cruise

Fewer people: Ocean cruise lines can have 3,000 to 5,000 people on board. Your river cruise will have at most 150 passengers. You'll never wait in long lines to get on or off the ship.

Never get sea sick: You won't experience rough water or motion sickness -- only smooth and peaceful river sailing throughout your cruise.

Local destinations: Ocean cruises are restricted to cities near major bodies of water, while river cruising allows you to explore Europe's history rich cities and villages that are inaccessible except by river.

Dock right in town: River cruises allow docking right in the heart of a port town. Ocean cruise lines often stop way outside of the town you are visiting -- as far as 70 miles away. A river cruise not only saves you time, it allows you to easily maximize your time when in port without the expense and hassle of a taxi.

Convenience & scenic: Besides never having to take your turn to get off the ship, you won't tender into port and you'll never spend days watching nothing but the ocean go by. Rather, you'll be cruising by ancient villages, castles, and other historical and scenic sites.

Overnight in port: You overnight both in Budapest (pictured below) and Vienna, and have ample time to visit other charming ports, including Linz and Bratislava. This almost never occurs on an ocean cruise.

Inclusive pricing: Ocean cruises charge extra for everything including high charges for excursions and wine. On this river cruise, Country Travel DISCOVERIES has added included a variety of land excursions, outside cabins, all gratuities, and wine with dinner each evening. While a river cruise might cost you more up front, when you add all the extras on ocean cruises like shore excursions, gratuities, and outside cabins the price is a tremendous value.

Educational & local: Ocean cruises offer gambling, dancing, karaoke and Vegas-style shows. River cruises are more elegant and educational. The cuisine is local and is brought in from the surrounding area (not shipped in from faraway places with the lowest price). The quality wines (included at dinner) are from Europe's great wine regions.
Better service: Fewer people mean more attentive service and a more personal relationship with the English-speaking staff.
Image credit: Luftner Cruises
Back to Blog