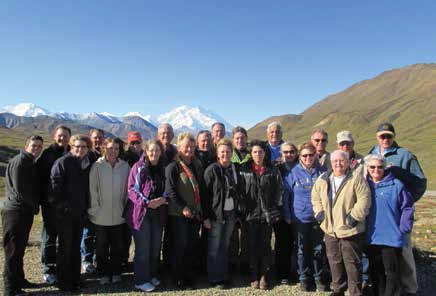 ---
Tips: Smooth Travels with Country Travel Discoveries
Dec 19, 2017
Country Travel DISCOVERIES is pleased to offer the following information to help you plan for a smooth, secure and enjoyable travel experience. 

Hotel Accommodations
Country Travel DISCOVERIES selects quality hotels, normally of the three diamond rating or better. It may not always be possible for us to accommodate all travelers in first-floor rooms at two-story hotels. In addition, we have requested all non-smoking rooms at each of the hotels along our route. Should you desire a smoking room, please let us know and we will request smoking rooms for you throughout the tour.
Luggage Assistance
Luggage handling is provided as part of your tour, excluding the day you independently arrive or depart. This service is limited to one piece of standard-sized luggage per person. Country Travel DISCOVERIES luggage tags will be included in your final documents and should be attached to your piece of luggage to receive this assistance.
International Tours: You are allowed to take one suitcase per person as checked luggage. The size limitation of luggage when flying is calculated by adding the total outside dimensions of each bag that is length + width + height. The totals should not exceed 62 inches. The maximum weight per checked bag is 50 pounds.
You may also wish to take a carry-on bag with you. Regulations when flying are very strict regarding the size of a carry-on, it must be small enough to fit in the overhead bin or under the seat in front of you. The total dimensions (as calculated in the preceding paragraph) should not exceed 45 linear inches. There is a weight restriction of 17 pounds for carry-on luggage.
Meals Not Included in the Tour Price
United States and Canada Tours
In order for you to plan for those meals not included in the tour, lunches will range from $10-$15 (U.S. Dollars) per person and dinners will range from $15-$20 (U.S. Dollars) per person.
Alaska & the Yukon Tours
In order for you to plan for those meals not included in the tour, breakfasts and lunches will range from $15-$20 (U.S. Dollars) per person. For dinners, prices can range from $20-$50 (U.S. Dollars) per person, depending upon your restaurant choice and dinner selections. You should never have difficulty finding meals toward the lower level of the $20-$50(U.S. Dollars) range-we only mention the $50 price point to let you know that fine dining is also available at some of our stays.
International Tours
So that you can plan for meals not included in the cost of the tour, lunches will cost from $15 (U.S. Dollars) for a light lunch to $20 - $25 (U.S. Dollars) for a full meal, and dinners cost around $25-$35 (U.S. Dollars) per person.
Coffee, tea, milk, soft drinks, bottled waters and alcoholic beverages are generally not included in the meal price of lunches and dinners in Europe.
Traditional European meals are normally complete lunches or dinners. While there are a few "fast-food" places in some cities, they are not as abundant as in the U.S. Eating "a la Carte" may help to keep meal costs below the estimates mentioned above, but keep in mind that, in some smaller towns, restaurant choices may be limited.
Clothing
'Casual wear' is strongly recommended, and you will need to consider the following guidelines in light of the expected weather for your destination. For women, we suggest casual tops, sweaters, sweatshirts, slacks, jeans and knee length skirts or shorts. For men, casual pants, jeans or dress shorts along with a shirt, sweater or sweatshirt is appropriate. Lightweight woolens are suitable, and knits are extremely popular since they pack well and offer a degree of warmth when needed. Layered clothing is particularly helpful because of frequent moves from indoors to outdoors to motorcoach. A pair of broken-in, rubber-soled shoes is highly recommended, so you can comfortably walk at our tour stops. You may also want to bring a warm coat/jacket and gloves (depending on your departure date) and rain gear "just in case". Finally, due to the relaxed nature of our trip, suits, ties and formal dresses are not needed. Also, when you're packing, you might want to leave some room for items you may purchase during the tour.
Things to Take
It's a good idea to make a pre-trip list of the things you might use each day-prescription (and non-prescription) medicine, eye glasses, contact lenses, sun glasses, hearing aids, camera & battery charger etc.
A battery powered travel alarm clock, a pocket calculator for currency conversion, binoculars and a collapsible umbrella may come in handy.
You may want to pack a small container of detergent, so you can hand-wash articles of clothing in your hotel room. Also, some foreign hotels do not offer wash cloths and may only put a small bar of soap in your room—so, you may want to pack a wash cloth and a bar of soap.
Electricity
220-volt current is used overseas, whereas in the United States we operate on a 110-volt current. If you are taking electrical appliances with you such as a hair dryer or iron, you will need to bring along a voltage converter and plug adapter which you can purchase from many major department stores. Voltage converter/adapters should be purchased here in the States— they are not readily available overseas.
Seat Assignments
Motorcoach
We have a seat rotation policy that allows you to move to a different seat each day on the motorcoach. This system works very well to give everyone an opportunity to sit in a different section of the coach. For the convenience of the group, we cannot make special seating assignments. No smoking is allowed on the coach.
Airline flights
Seat assignments on International flights are on a request basis only. Every attempt is made to seat our group together and honor requests. Requests for bulkhead and exit row seating are assigned upon check-in by the ticket agent and cannot be assigned prior to day of departure.
Money
United States Tours:
For convenience, we recommend you use a credit or debit card for your spending money on tour. These cards are accepted nearly everywhere in stores, and if you have a PIN number with one of these cards, you can access cash machines in various places throughout your tour.
Canadian Tours:
Although you will have opportunities to exchange currency at banks and ATM's while on tour, we recommend that you bring an amount of $50-$100 of Canadian currency to cover initial expenses. Your local bank may be able to assist you with this purchase or, you will often find currency exchange stations available in larger airports throughout the U.S. & Canada. Note: Generally, U.S. dollars will be accepted in Canada. However, you will not receive a strong rate of exchange.
International Tours:
Although you will have opportunities to exchange currencies at banks and ATM's while on tour, we recommend that you bring an amount of $50-$100 of foreign currency to cover initial expenses upon arrival in each country. Your local bank may be able to assist you with this purchase.
We highly recommend the advance purchase of foreign currency to cover minor expenses such as beverages, snacks, etc. while on tour. For larger purchases we recommend the use of major credit cards, (refer to credit card section).
Credit Cards: Often, a credit card purchase offers an excellent rate of exchange, and may avoid certain currency conversion fees. Most widely accepted are VISA, MasterCard and American Express. Some credit card companies may charge a fee for international charges, therefore you may want to check in advance with your credit card company.
ATM Machines: ATM machines have become increasingly available in countries outside the U.S., and offer a convenient and easy method for obtaining cash at any time of day. You may wish to check with your bank to inquire about any fees that are applicable and for instructions on using your card in the countries you will be visiting.
Prescription Drugs
Your personal medication should be kept in original labeled containers from the pharmacy and carried with you in your purse or carry-on bag. (It is a good idea to take an extra copy of your doctor's prescription with you on the tour.) Please take enough medicine to last the length of the tour. You might also want to consider taking along your favorite stomach remedy in case of minor discomforts. The same is true of any vitamins, salt or sugar substitutes you may be using. If you need refrigeration for insulin, you can arrange that with each hotel. If you wear eyeglasses, contact lenses or a hearing aid, we suggest you bring along a spare.
Mobility
You should be aware that there are times when a good deal of walking is involved in our tours. Those who have difficulty walking may not want to take this trip or should at least discuss their personal situation with their doctor before deciding. Due to the lack of proper facilities at some of the farms, ranches and rural sites we often visit, we are unable to accommodate wheelchair users.
International Tours: We are finding that larger European cities are closing their historic districts to motor traffic. This, of course, adds to the amount of walking involved when visiting a city (2-3 hours in some cities, sometimes on uneven and/or cobblestone walkways). In addition, you should know that you may be required to exit the motorcoach at each stop because local law often does not allow travelers to remain on the motorcoach while it is parked for a scheduled stop. Due to the lack of proper facilities at the rural and old-town sites we often visit, we cannot accommodate wheelchair users.
Telephone Calls
If you have a calling card, we suggest contacting your calling card's customer service center prior to your trip to find out about your particular card. When speaking to your customer service representative, it's also a good idea to ask for specific directions for placing a long distance call from the countries you will be visiting.
If you do call home during the tour, you may want to place your call from a pay phone rather than your hotel room. It is common for hotels to add a substantial service charge to your phone bill. Consult your local Tour Director or hotel front desk for advice.
Also, with the common usage of cell phones today, you should contact your cell phone carrier to determine if your cell phone has international access or not. You may be able to add this service onto your phone for the duration of your vacation.
Help with Travel Delays, etc.
Included with your Country Travel DISCOVERIES tour is the service of a dedicated around the clock travel counselor who is just a phone call away. Our counselors have access to your Country Travel DISCOVERIES itinerary and Tour Leader information, allowing us to serve you best.
Our counselors will solve travel problems or emergencies such as:
Flight & Hotel re-bookings- Assist in rebooking flights or hotel accommodations in the event of a flight cancellation, delay or schedule change.
Car Rental bookings- Reserve car rentals domestically and internationally.
Emergency return travel arrangements- In the event of an emergency we are available to assist with hotel, flight and car rental arrangements so that you may return home.
Roadside assistance- We can assist in dispatching a tow truck or other appropriate roadside event (lock-out, gas, battery, etc) to your location in the event of a roadside emergency en route to departure.
Guaranteed hotel check-in- In the event of a travel delay, we can contact your hotel to guarantee a late arrival check-in. We will also guarantee a hotel in the event your credit card is lost or stolen.
Missed connections coordination- In the event of a travel delay, we can assist in catching you up to your tour.
Last Minute Checklist
Have post office hold the mail.
Stop the newspaper delivery, or have a friend or neighbor take them in for you.
Turn hot water heater to low.
Kennel or find someone to take care of pets.
Water plants.
Leave copy of trip itinerary with a friend. (CTD routinely provides an extra trip itinerary for you)
Leave a copy of your Passport, airline tickets, travelers checks and any credit card you plan to use with a family member or trusted friend.
Place a card with your name and address INSIDE your luggage...in addition to outside luggage tags.
Carry your health insurance information with you on your trip.
Empty your refrigerator of items that might spoil while you're away.
Take a test walk with your carry-on luggage to make sure you're comfortable with its weight.
Back to Blog