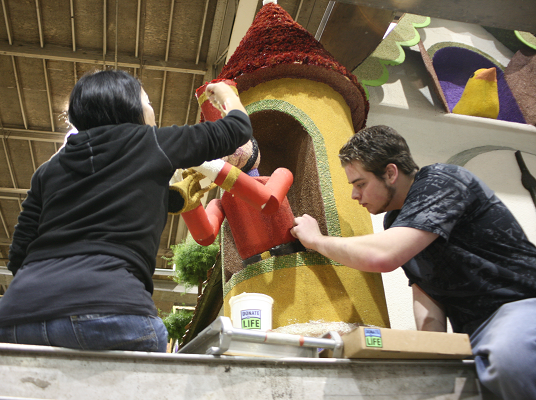 ---
Pre-Tour Glimpse Inside Rose Parade Holiday Tour
Nov 07, 2017
Added Fun and Insight with Float Decorating, Equestrian Show
Over the years, dozens of active travelers on our Rose Parade Holiday New Year's getaway (Dec. 29-Jan. 2) in Southern California have taken up an opportunity to arrive early, roll up their sleeves, and really immerse themselves in the Tournament of Roses in an unusual and exciting way.

Country Travel DISCOVERIES' annual "Petal Pushers" Pre-Tour Extension (Dec. 28-29) allows travelers to settle in early at the Courtyard Marriott right in the heart of vibrant Long Beach Resort and help a group of more than 4,000 volunteers decorate these soon-to-be-spotlighted floats.
"I not only had a lot of fun working on the floats alongside other flower lovers," said Judy B., one such traveler from Minnesota. "It also gave me a whole new appreciation for just how much planning, dedication and care goes into detailing even the smaller floats."

Once again in 2017, Country Travel DISCOVERIES' guests will also have an option to get an up-close glimpse into another aspect of Parade magic: the dazzling horsemanship! At the Dec. 29 Equestfest, we can meet many of the Equestrians who will ride in the Rose Parade on January 1! Watch in awe as these beautiful horses and talented riders perform drills and dances, and demonstrate trick riding and roping.

Image credit: CTD Traveler Jim Leuenberger

Back to Blog