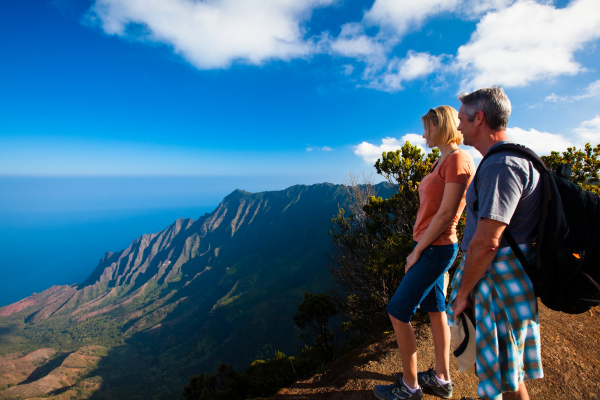 ---
Need a Little Paradise (Again)...
Nov 17, 2017
Is 2018 the Year for the Peace, Wonder and Culture of Hawaii?
Winter is coming...and we know it. Following a mild fall, the Farmers' Almanac foretells of a winter in the U.S. that is forecast to be "much colder than last year's," as well as "a wet and snowy winter all around".

We start to brace for it, and our thoughts turn to sunny climes, and come January we're yearning to go someplace nice and beachy. But maybe this year, it's time for a different kind of warm weather trip...

Maybe this is the year you finally treat yourself to Hawaii.
Before you do, though, keep in mind that it can be a rather involved travel experience with lots of options and "island hopping," and the investment can be substantial. Seeking the advice of a knowledgeable, local Hawaiian travel expert – the kind that know where all the hidden gems are – can help you get the most meaning and value from the experience, as well as your time in the sun.

David Lopaka Millwood is president of Hawaii State Tours, a travel firm that has helped more than 85,000 visitors enjoy Hawaii. His outfit specializes in bringing culturally interested travelers to spots where they can learn more about native Hawaiian and Polynesian culture and history.
ALOHA SPIRIT

"The first thing you'll experience is the welcoming nature of the people of Hawaii," says the Oahu-born Millwood. "It's what Hawaii is really all about.
"The people of Hawaii are born with a true 'aloha' spirit," says Millwood, then explains "'Alo' means 'face to face,' and 'ha' means 'breath of life.' So when we greet you, we look you in the eye and welcome you, and we mean it. "

"The symbolism of the lei says it all," Millwood says, referring to the necklace of woven-flowers that greet delighted visitors arriving in the islands. "Someone has made that lei by hand – with their spirit, with their heart. It is their gift and Hawaii's gift to you – to say thank you for coming."
GO LOCAL 

While Hawaii certainly sees its share of snowbirds content to stick to the resorts, most tourists and groups Millwood works with seek an "off-the-beaten-path" experience, he says.
"We can visit any number of sleepy little towns where people are still kind of tucked away, living in the countryside and maintaining their old traditions.

"In their lives, they respect the surrounding land and it's part in their lives. They revel in the beach, the ocean, all the fishing."

Coconuts, papaya, mango, lychee, guava, passion fruit are everywhere, and farmers markets with fresh fruit and freshly caught fish abound.

In this temperate climate, with only a six- to eight-degree variation in temperature all year long, says Millwood, everything happens outdoors.
Once that "chill" vibe and the balmy temps have worked their magic on you, says Millwood, you'll want to see some sites.
In addition to famous tourist sites like Pearl Harbor, Halekala and Volcanoes national parks, and the Dole Pineapple Plantation, packages with Hawaii State can include forays into the rainforest past cascading waterfalls and verdant lagoons, hikes on volcanic landscapes and black sand beaches, and plantation stops.

INDIGENOUS TRADITIONS

"Us mainlanders are also really enamored with Native Hawaiian and Polynesian traditions," says Stewart Ikeda, Director of Marketing at Country Travel DISCOVERIES, a Wisconsin tour operator that has sought Hawaii State's assistance in the past. He says trip surveys show their winter travelers have enjoyed traditional native drum shows, 'fire knife' performances, hula and Tahitian dance, authentic luaus and more.

"We arrange tours of a gorgeous botanical garden where travelers converse with a real Polynesian chief named Sielu," says Millwood. The Chief shares traditions and teaches skills such as fire-making with sticks and opening a coconut.
"Travelers also love hearing the indigenous people share Hawaiian lore, including tales of the legendary fire goddess Pele, the war god Ku, King Kamehameha and Queen Liliuokalani," says Millwood.
MORE THAN A WARM ESCAPE
Not surprisingly, travel professionals say Hawaiian travelers' "must-do" activities also include anything that has to do with the Pacific's crystalline waters. Surfing and snorkeling may be among an option, or for those who prefer to stay on top of the sea, setting sail in search of humpback whales can be just as invigorating. 

"In between savoring locally grown Kona coffee on a clear island morning and mai-tais on the beach reveling in the sunset – such a trip can be so much more than just a warm-weather escape," says Millwood.

And, once touched by the "aloha" spirit, says Millwood, many people feel a real need to return.

"It can be a real cultural discovery and an experience in true Hawaiian peace and one-of-a-kind relaxation."
By Becky Steimle
Image credit: Tor Johnson/Hawaii Tourism Authority

Back to Blog